The recent show of the Chanel 2013 cruise collection is already being discussed. The outfits will surely find their clients. However, every show is not only interesting for designers creations but for makeup artists and hairdressers findings, as well.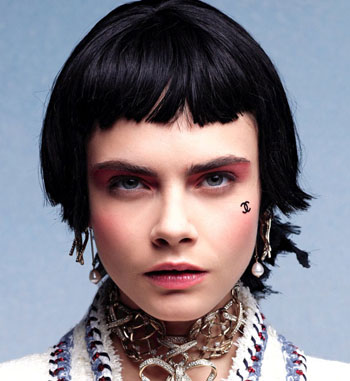 The popularity of temporary tattoos is now at its peak. And it is all due to Chanel. Do you remember the collection of temporary body tattoos for Spring-Summer 2010 by Chanel? It literally raised a wave of new approach to the tattoo. Now there are lip tattoos, eyelid tattoos – tattoos have become part of makeup.
The models at the recent Chanel show demonstrated another new feature – a patch on the cheek as a Chanel logo. These are also stickers-tattoos. Of course, temporary ones.
These patches will probably be on sale and will be included into upcoming Versailles de Chanel makeup collection.
Why not get ahead of time, and draw a logo yourself? It can be the Chanel logo or your own initials. Thanks to Chanel and Karl Lagerfeld for the idea!