The showing of one of the most influential fashion designers – Miuccia Prada – is always awaited with particular impatience. This time, the designer moved away from the playful prints and silhouettes of the 1950-s, which were presented in her spring collection, making geometric and mosaic prints and more strict cuts the predominant ones.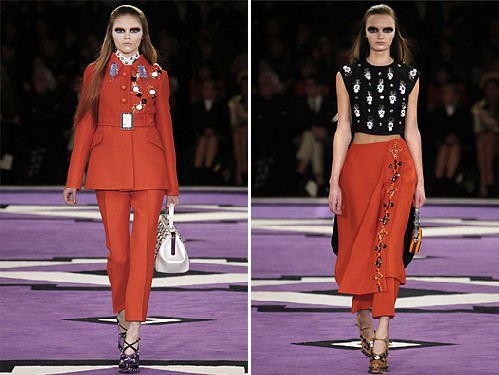 At the beginning of the show, dark colors were predominant on the catwalk. Prada even admitted that she had initially conceived to make the entire collection black. However, at some moment, the designer grew bored with it and decided to turn to bright colors. She used bold geometric prints, decorating the items with massive jewels, used bright color combinations of orange, purple, green, and others.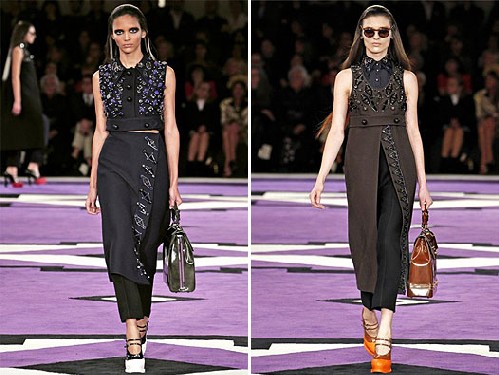 Almost every image includes cropped trousers, often in a combination with skirts and dresses (Prada suggests wearing multi-layered skirts and kilts over trousers). They evoke associations with the Indian style. Also the collection clearly shows the influence of the military style.
Although Miuccia herself claims that she did not have to be inspired by something specific. She does not want to talk about ideas and influences. The collection is devoted to beauty. Nowadays, every designer has a theory about his/her collection, but it is not for Prada. According to the designer, this collection tells about the pleasure of fashion.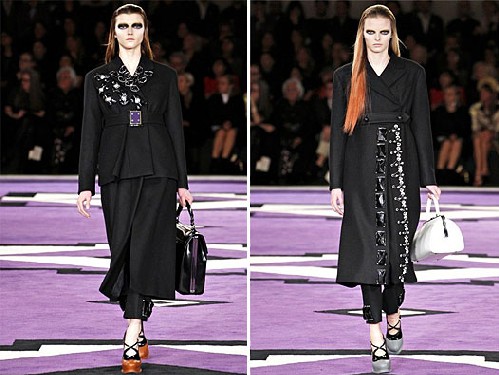 Prada, as usual, pays special attention to accessoires. During the new season, one will be able to find leather bags with geometric appliqués and Mary Jane shoes on a platform decorated with jewels in the brand's boutiques.