Giorgio Armani's first appearance at this year's Milan Fashion Week was the Emporio Armani Spring-Summer 2013 collection, demonstrated a few days ago. The designer's new creation was his Giorgio Armani show.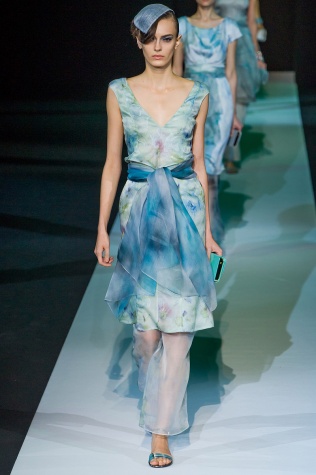 Being born in hot passionate Italy, the author of the collections suddenly painted both of them in cold colors. The collections consisted of pantsuits, short jackets, vests, overalls and straight dresses and tops with watercolor prints, performed in strict architectural cutting in a palette of smoky pearl colors: white, gray, pale blue, turquoise and purple.
The images were complemented by graphical makeup, sleek styling with a soft wave on the eyes, and a triangular hat. Giorgio Armani's collection was also complemented by the line of brilliant black evening gowns, "inlaid" with metallic threads, sequins and paillettes, which finished the show.
Watch the full fashion show below: