Among other trends, there was one that stood out especially vividly during the last fashion shows. Many brands suggested wearing fashionable shawls and light head scarves. What accessories should you pay special attention to and how should you do it?
The African style
One of the hottest trends of this spring is wearing head scarves and satin scarves in the African style. Stylists advise to collect hair in a high bun and wear a head scarf, tying it in front and completely hiding the tassels of the accessory.
A broad band in the 1960s style
A universal variation, which almost every girl will find suitable, is a kerchief or a scarf, entwined around the head as a broad band and knotted behind. It is recommended to have a hairstyle in the spirit of the 1960s, collecting the hair high on the back of the head and leaving no loose strands.
A knot in the front
Hairstyles, complemented with a head scarf, look very coquettish. Especially if the accessory is fastened in a small knot in the front or has a lush romantic bow.
The traditional variant
The traditional way of wearing a head scarf does not go out of style this season.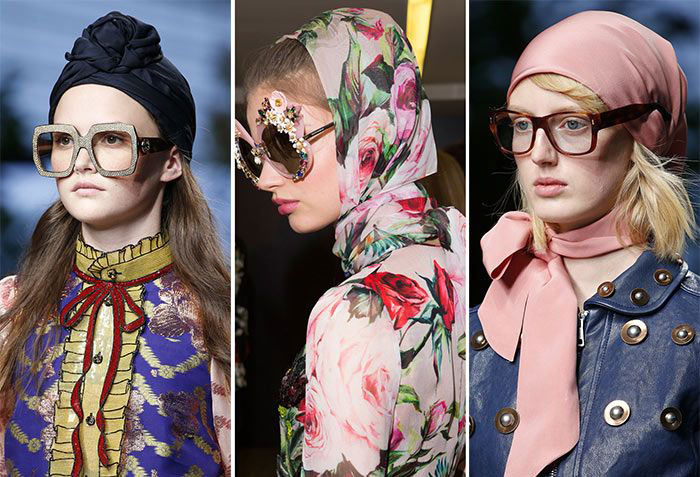 A small accessory can be worn in the style of the 1970s, and a bigger one can be tied loose on the front of the neck.
Prints and fabrics
As for fashionable fabrics, the first place went to shimmering satin and light chiffon. The prints are predominantly tropical, fruit and delicate floral.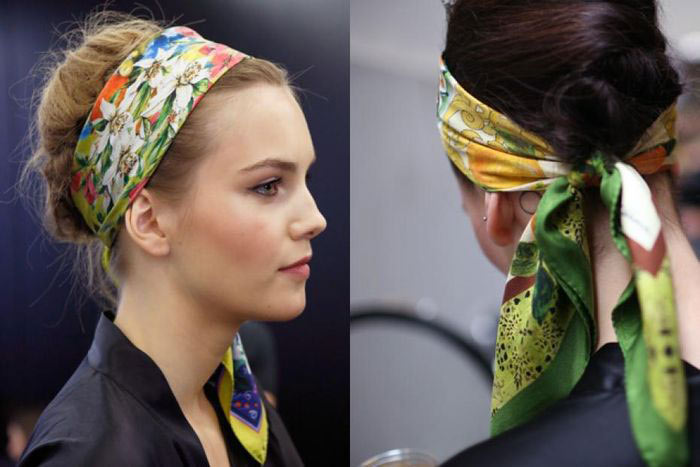 The color scheme ranges from bright and saturated to calm pastel. Yellow, green, blue, turquoise, pink and orange colors are in the limelight.