With a hemline that lands at the shin, tea length dresses have a vintage vibe that is en vogue right now. Top designers all over the world showcased tea length pieces in their spring collections on the runway. Whether the skirt silhouette is cut straigt or flared, this ladylike length is flattering on most any body type and is giving the classic little black dress some competition anywhere a cocktail dress can be worn. Many brides are even choosing tea length gowns over traditional floor length dresses. Whatever the occasion, make a ready-to-wear tea length cocktail dress your own with these head to toe styling tips.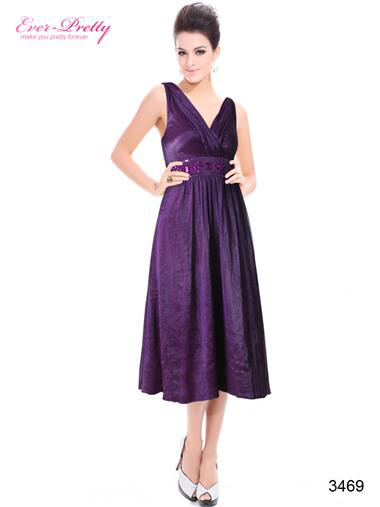 Shoes
The shoes are probably the most important thing to consider when styling a tea length dress. For a daytime look, a nice pair of ballet flats is appropriate. After dark, however, heels are a must! Generally speaking:
The heel should be between four and six inches high
Wedge heels or other clunky styles should be avoided
Choose shoes with angled straps or other interesting details
This hemline naturally makes the feet a focal point, so the shoes have to be perfect. When wearing open toed styles, be sure that toenails are polished.
Stockings
Depending of the nature of the event and the style of the dress, stockings may or may not be appropriate. For instance, tea length dresses with a sexy halter top worn for a night out with the girls will likely look better without stockings. At a formal event, however, stockings are a must. Stick with sheer styles that won't compete with the dress or the shoes.
Clutch
A great clutch is an indispensable accessory that adds instant glamour to any tea length cocktail dress. A hard box style with rhinestone studs will bring a modern edge to a vintage look. A pleated satin evening clutch in a contrasting color is also a popular choice. Either way, it is imperative to have a fresh manicure when holding a clutch.
Jewelry
Accessorize the dress with one or two great pieces of jewelry. Skip the bracelet when carrying a clutch with intricate details and instead focus on finding a pair of statement earrings. Chandelier styles are always a classic choice. For something a little more modern, try a pair of ear cuffs.
Hair
The primness of a tea length dress lends itself to swept back hair. A simple chignon, a top-knot or another vintage-inspired hairstyle will complete the look. Shorter hair styles should be kept sleek and shiny with a smoothing product. A delicate metallic or rhinestone headband can add a touch of romance to the look if desired—but it should count as one of the pieces of jewelry the dress is styled with.
Makeup
Makeup should be sumptuous without being too heavy. Play up the eyes with sheer shadows and dark liners. Don't line the entire eye, though. Start just above the pupil and work to the corner of the eyes; do the same below the eye and then use a smudger to blur the line.Define eyebrows with a pencil, swipe on two coats of lengthening mascara and keep the rest of the face simple. Use foundation or a B&B cream to even out your complexion and finish with a nude or muted lip color.