Pantone's announcement concerning the new Color of the Year is out, and 18-2120 Honeysuckle is proclaimed to be the dominating hue in the coming year.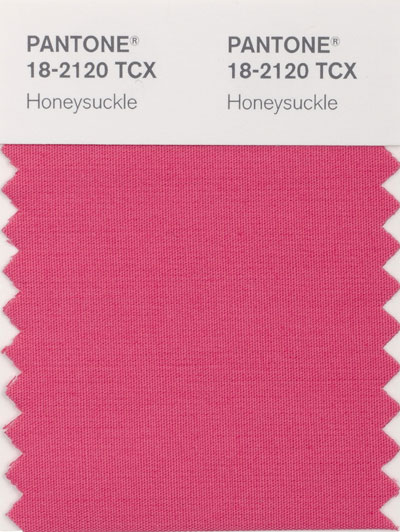 Succeeding this year's Pantone choice 15-5519 Turquoise, the new color leader is ready to magically change our interrelations with Life's tides. While the cool Turquoise spelled tranquility in the face of the current affairs and a certain amount of inner withdrawal from the strife, Honeysuckle will be there to strike a completely different note.
Having red as its mother color, the 2011 predominant hue is going to stimulate us into taking a more active stance throughout the year, buoying us up and imbuing with fresh vigor and assurance.
Highly charged both physically and emotionally, Honeysuckle can be expected to infuse extra durability against these stressful times.
Pantone Color Institute Executive Director Leatrice Eiseman, who delivered the Pantone official report, describes Honeysuckle as "a captivating, stimulating color that gets the adrenaline going – perfect to ward off the blues."
The uplifting and invigorating hue will easily be embraced by fashion and interior decoration alike; cosmetics, accessory manufacturers and all kinds of designers will avail themselves with profit of its quiet forcefulness and ability to bring in a lively note into any ensemble.
Men's and women's appearance can equally benefit from Honeysuckle's bracing qualities… Besides from being Pantone's 2011 Color of the Year, it is also hailed as 2011 spring hue. As such, it has already been employed by several companies (Cynthia Steffe and H&M first come to mind) for their spring clothes lines.
Pantone has been engaged in defining predominant colors for time periods since 1999 and announcing Color of the Year since 2007, producing a strong influence on a wide range of industries and designer houses.
Source of the image: Freshhomeblog.