A lot of thought and consideration goes into picking the right wedding dress but there's another crucial element involved – the wedding underwear. What you wear under your wedding dress can help you to feel even more confident while also complementing your dress style by keeping any wobbly bits in check.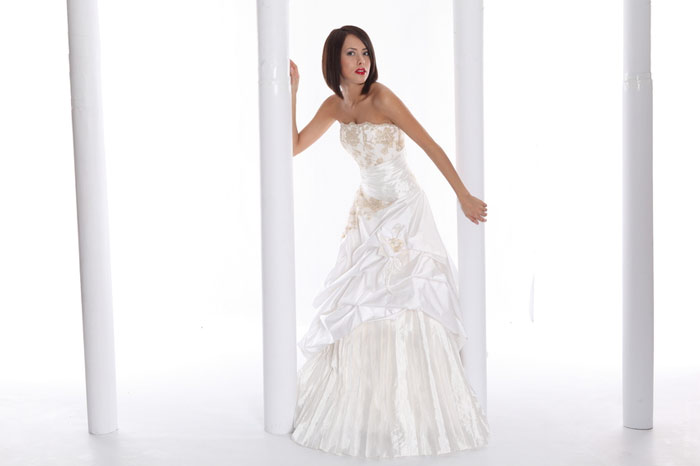 Wedding underwear is almost as important as the dress itself and it's vital that there aren't any bra straps or panty lines on show. To help you find the best underwear for you and your dress, we've put together a handy guide that details all of the important decisions involved in choosing underwear for your wedding.
What Comes First – The Dress or the Underwear?
Unless you have a firm idea on exactly what style of dress you're going to wear on your big day, hold off buying wedding underwear until you've settled on your choice. You may need to re-think your underwear if you decide to wear a strapless dress or one that's figure hugging, so always consider the dress before what goes underneath it.
Wedding Dress Fittings
Once you've chosen your dress it's a good idea to take along your bridal lingerie to any subsequent fittings, just to make sure everything looks OK. It will give you an idea as to whether any straps or lines are showing and if you do have a difficult neckline, some dress fitters may help by sewing your underwear into your dress!
White Underwear
You may feel as though you have to wear white underwear for your wedding but this isn't the case, especially if you can't see the underwear through the dress. If you've gone for a nude color or ivory dress, choose your underwear to match this; or, if you've gone bold with a bright color, you can change your underwear to match!
Shapewear
If you're wearing a dress that shows off your figure, you may want to opt for underwear that helps accentuate your shape. A lot of plus size dresses will be made to help enhance figures (e.g. those at PreOwnedWeddingDresses.com) but there's no harm in adding to this with underwear that makes you feel even more confident and secure! If you do choose to wear these, you may also want to opt for some sexier underwear for the wedding night too!
Don't worry about wearing sexy underwear during the day because it's important that you feel confident and comfortable in your dress and you can always change later on.
Going Braless
If you've opted for a dress that has a bodice in, you may find that you don't require a bra. And, if you feel like you've got enough support up top, this isn't a problem at all; you can always opt for some sexy knickers and stockings to bring the glamour to your wedding night! However, if you do have a larger bust, you'll probably feel more confident adding to the support of your dress with a bra.
Finally, if you are wearing stockings, try to have a spare pair handy, just in case you ladder them during the day. And don't forget underwear for your honeymoon so you can really get it off to a romantic start!
Debra Lane is a shop assistant in a large bridal boutique, a job she wouldn't change for the world! She loves seeing 'that look' when they have found 'The Dress' for the bride to be and shares her shopping tips in her articles.