When it comes to spring fashion, women have plethora of options to choose and experiment with. Be it blunt looking denim or short dress, there are multi-color and various size outfits available to try out in spring season. However, it is also important how you pull out this trendy fashion for this most awaited season of the year. No one likes to repeat their dresses regularly, instead, want to get the best look for the season. If you're looking out for boutique dresses, then Saved by the Dress is a trendy online boutique with the latest fashion trends to check out for and purchase at the best price.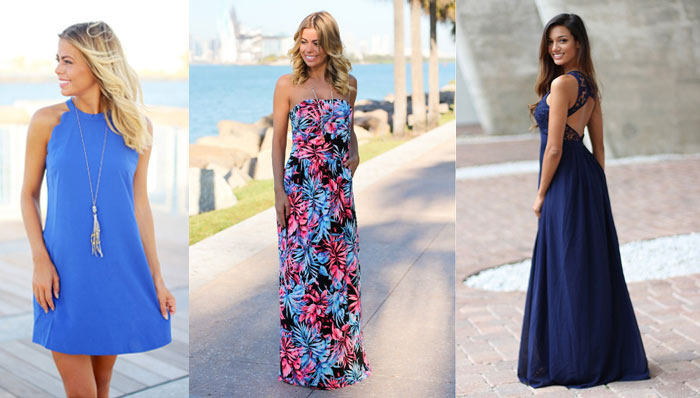 Let us now check top fashion tips a woman should follow this spring:
Try the Destructed Denim
No matter what the season is, destructed denim trend never goes away. So for this spring, make this denim item your wardrobe staple. Go for a boyfriend fit and then pair them with heels that fits perfectly to your legs and fitted top. Moreover, the outfit can flatter and keep you looking chic. To dress it down for the daytime wear, slip into with a pair of slides and master the ankle cuff.
Geometric Skirt
Well structured and geometric skirt paired with a frilly blouse is perfect for day and night spring getup. You can match this outfit with open-tow booties or tennis sneaks. Add mirrored sunglasses when you're stepping out. The outfit really goes well when you're out for a party during the spring season.
Bare Shoulders
The new fashion mantra for the spring season is the bare shoulders. A classic white dress complemented with tassel earrings and silk scarf not only makes you look classy, but also adds up to the pop of color. To add more and silhouette feeling fresh, do try out the off-the-shoulder style.
Flower Bloom with Femme Florals
One of spring's ultimate choice of fashion is flowery print dress that comes with varied patterns that goes well with fluttery tops and frilly dresses. The best thing is, it can go well with the any outfit giving a contrast look. You can play around with different colors and outfits. However, make sure that when you're incorporating florals, keep the rest of add-ons simple and neutral.
Full Lace Skirts
Check out varied options of full lace skirts at Saved by the Dress under different prints and colors. During the spring season you can complement this skirts with graphic tees and rugged boots giving a neutralize look to your glamour. It's simple but elegant look will really uplift your fashion act.
Short is the Best
Short dress with open shoulder romper or floral crochet short is the best outfit you can dry this spring season. At Saved by the Dress, you'll come across multiple options including Royal Blue Scalloped Short dress, Black and Leopard Romper with Pockets, Navy Floral Strapless Short Dress, and few other options.
Do check out with the fashion stylist who can help you to get the information on what outfit would go perfect for a woman during spring season? This is the way to get the best outfit that will make heads turn.