There are just things, and there are beautiful things that can give a sense of celebration. Someone may call them too ornate, intricate or defiantly expensive.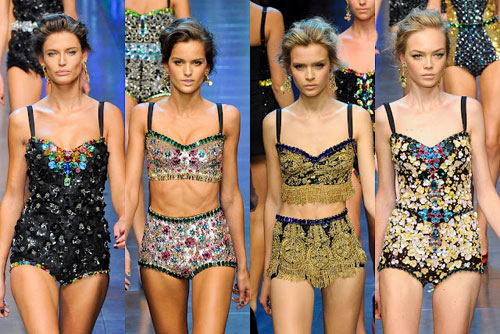 But what, if not beautiful details, can help experience the true taste of life and highlight your personality? Today, I have paid attention to the Dolce & Gabanna spring-summer 2012 swimwear, which looks like a work of art rather than an outfit for the beach.
The main trend is clever and complex trimmings, a lot of details – from the fringe and shiny ribbons to feathers and colored stones. This is not surprising, if you take into account the maximal of colors so typical of Dolce & Gabanna. Although, it is worth noting that on rich summer days, items with lots of elements and jewelry look particularly relevant and match the summertime mood.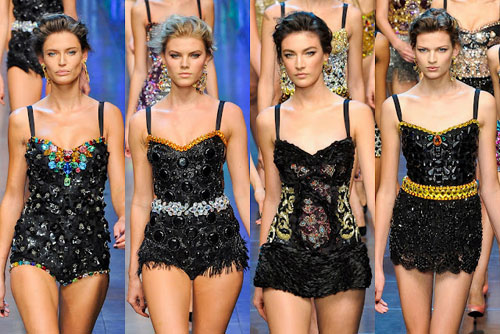 The color schemes are drawn towards metallic gold and silver with patches of rainbow decorations resembling stained glass windows of medieval Gothic churches. The required attribute of the image is long massive earrings matching the swimwear.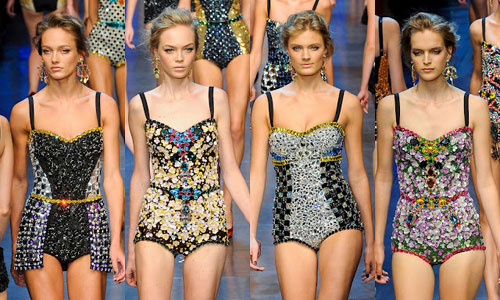 The second point is a retro silhouette – short shorts with a high waist and maximally closed wide-strapped bras or a modest one-piece model that came into fashion in the beginning of the previous century.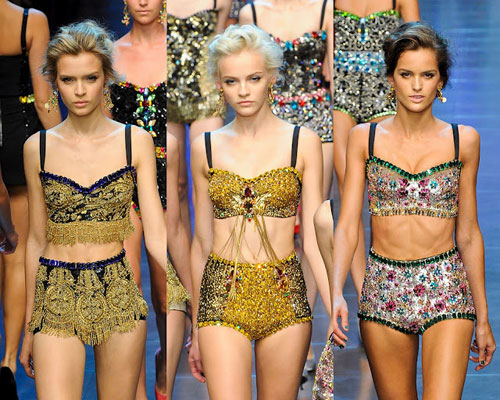 By the way, except for jewelry decoration, the collection offers a variety of prints and color combinations that designers are not afraid to combine in the most peculiar way.