A good costume is perhaps the most important thing in any image on Halloween. Of course, you can buy it. However, a manufactured outfit is not so easy to choose in accordance with one's size and taste. In addition, it will cost a lot.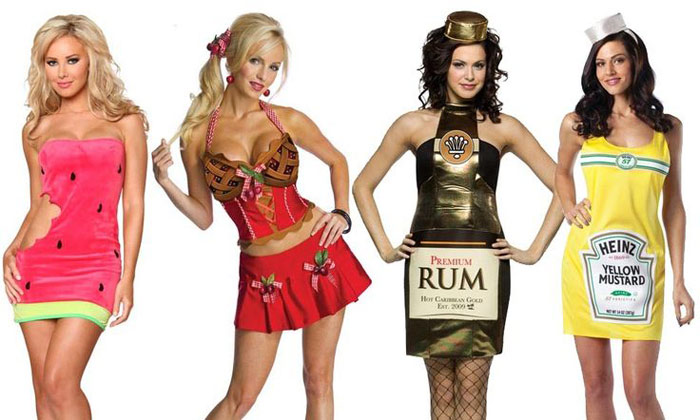 An excellent way out would be to make a costume for Halloween with your own hands. In case of an appropriate approach, this will not require much money or time. Another advantage is that nobody else is going to have the same costume.
Suitable materials for the costume
Virtually everything could possibly serve as the basis for a festive costume. For example, any old thing would be perfect for the image of a witch. If these things have holes and patches, it is even better. If those are not available, rags and pieces of contrasting fabric can be sewn or drawn with gouache or acrylic paint.
Torn stockings, elongated cardigans or even pieces of fabric where you can make holes for arms and head (preferably of dark colors) would come in handy.
Seductive costume images for Halloween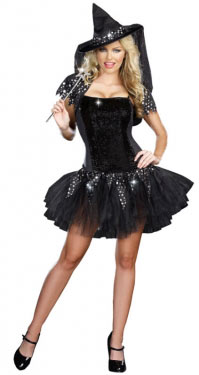 Photo Credit: Halloweenexpress.com
A witch is not necessarily old and terrible; she may have a very attractive appearance. In order to turn into a kind of sexual witch, you will need a dress or a skirt with a jacket.
It can be of any length: mini or maxi with a slit. A deep neckline is also welcome. In this case, you can add some playful details to the outfit, such as horns or a tail. A high pointed hat and a broom in your hand would be a perfect accessory.
A homemade Halloween costume for the lazy
It is quite simple to make a ghost or a zombie costume. A perfect ghost image will be created with the help of white sheets with slits for hands, eyes and mouth. The emphasis will be made on a belt – for example, a chain or a rope which can be worn around the neck. It is possible to "turn" into a zombie if you wrap yourself into ordinary medical bandages.
A more feminine option would be to sew pieces of bandage together into a dress (or sew them onto an already existing white outfit), which can be of any style. It will look particularly impressive if the bandages hang loosely in random order. The image can be completed with "gloves" and "socks" made from bandages that your hands and feet will be wrapped in not very tightly.
An alternative solution: Halloween costumes
The people who are indifferent to the "evil" and mysticism, but do not want to miss Halloween, can choose a relatively neutral image, such as that of a hippy. In this case, it is recommended to make an ensemble of free long skirts and wide tunics (a skirt can be replaced with flared trousers).
Fringed vests, bright wide belts and, of course, numerous colorful baubles will be appropriate as well. The final touch is the original bandage around the head and a Pacific pendant.
Another simple way of making a Halloween costume with your own hands is the image of a Japanese geisha. It is enough to put on a dress of an appropriate style (which almost every woman has in the wardrobe) or a kimono-like gown, put some white color makeup on the face, highlighting the eyes and lips, and make a ponytail.
A bright fan or an umbrella will serve as excellent accessories.