Are you willing to appear before the altar not in a luxurious wedding dress selected a few months before the wedding, but in a bikini? Designer Mara Hoffman launched a line of wedding bikinis for the brides who prefer a marriage ceremony on the beach.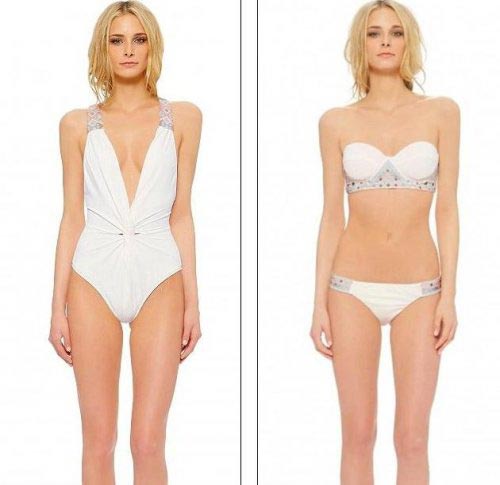 Earlier, the lack of shoes was the main highlight of the beach wedding – the girls walked barefoot on the sand – and now it is customary to give up even the dress. Although it is assumed that almost every girl wants to be in front of the altar in a luxurious wedding dress, it turns out, there are quite many of those who are willing to stand next to the groom in a swimsuit.
However, it should not be a regular swimsuit, but a wedding one. Mara Hoffman from the U.S has developed a line of wedding lingerie. And do not confuse it with underwear for brides produced by various fashion brands. That underwear is designed only for intimate pleasures of the bride and the groom on their wedding night, and a Mara Hoffman bikini is a kind of clothing. After all, a bride should wear it saying the marriage vow in front of the guests.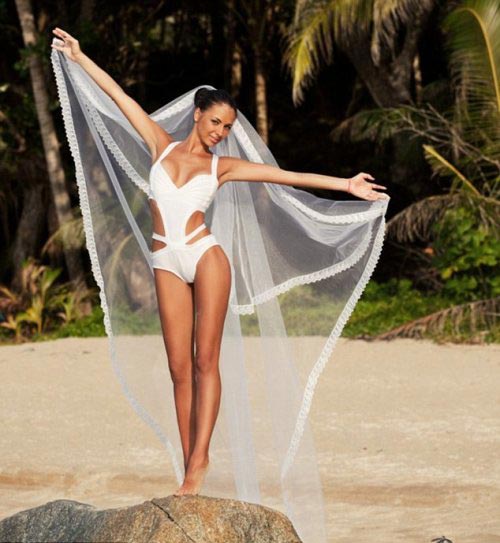 The cost of beaded wedding leotard is $308, and for a beaded bikini you will have to pay $342. Of course, it is designed in the classic white wedding colors. Moreover, these clothes are designed not only for beach weddings. The manufacturer's website states that swimsuits are designed for the bride on the beach, in the desert or under a shed in the woods.
Mara Hoffman said the idea of ​​marrying near the ocean appealed to her very much. However, if a woman finds a wedding swimsuit too minimalistic for such a ceremony, she can easily complement it by an elegant veil. By the way, these bikinis are more than a good reason to lose weight before the wedding day.