Supermen and playboys, just as the heroes of action films, are not born. They are made by working hard on themselves and building muscles in the gym. However, if you are almost Schwarzenegger in your dreams, and the reflection in the mirror stubbornly demonstrates mere skin and bones, this is not a reason for embarrassment and swallowing doubtful pills. First, reconsider your wardrobe. Even simple changes in clothes can help you seem much more "muscular" in a matter of minutes. The changes will not go unnoticed by your significant other.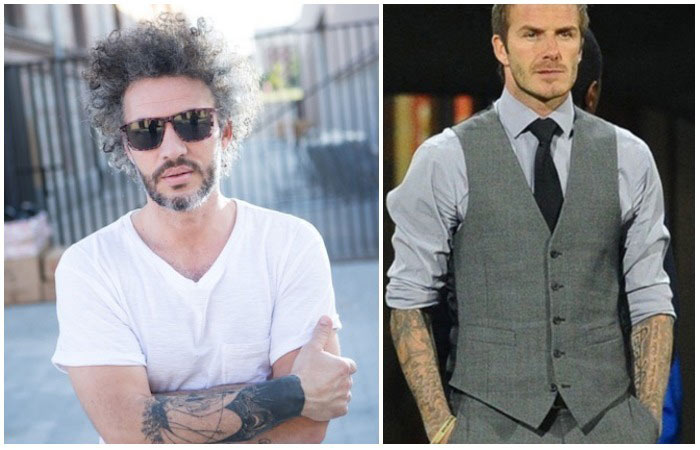 Clothing is capable of almost working miracles. It not only shyly covers your nakedness, but also dramatically changes the proportions of the body: lengthens or shortens your legs and torso, adds volume to the chest area… Do you think all these tricks could be for girls only? Not at all! Of course, all sorts of push-ups and slimming corsets are for your girlfriend. Do not hesitate to follow these simple tips when choosing clothes that will definitely help you look fitter and much more sporty.
1. "V" means muscles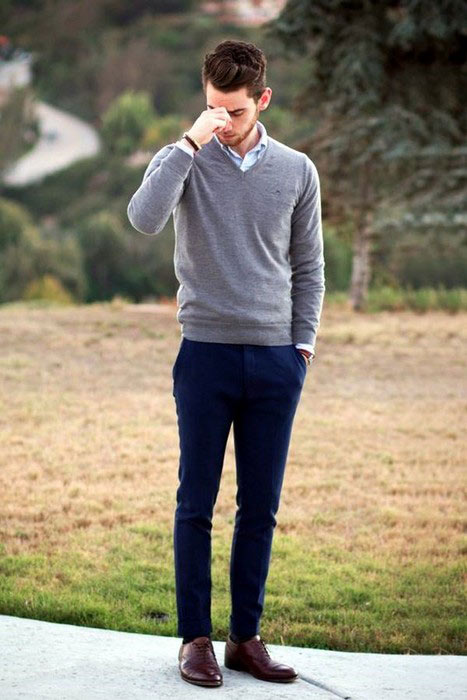 While the girls contrive to achieve the "hourglass" silhouette, guys sweat in the gym to have a big "V" shape. In other words, they want a figure resembling an inverted triangle: broad shoulders and a narrow waist. Does it sound familiar? Well, if you are the proud owner of a thin "rectangle" or even a "circle", you can simulate the desired triangular silhouette with the help of the properly selected clothes. It's simple: look for the things that visually increase the shoulders and narrow the waist. The classic version is a shirt, tucked in a little narrower pants (the so-called "slimming" style) with a narrow belt. Or jeans with a T-shirt and a loose jacket or cardigan on top. By the way, the V-shaped neck of the T-shirt is quite good at increasing the chest and shoulders. Take note of that.
2. Clothes should fit your figure perfectly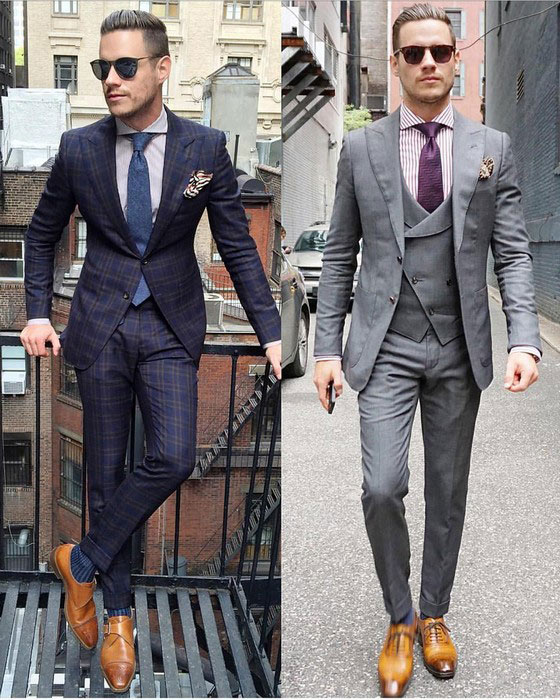 In pursuit of the illusion of a desirable volume many lean men make the same mistake: they choose too wide clothing. Alas, the things two sizes bigger do not make you two sizes bigger. Even visually. At the same time, excessively tight jeans and turtlenecks will make you even thinner. Way out? The happy middle ground. Stylists advise to choose a slimming outfit that fits the figure, but is not too tight (to avoid looking like Howard Wolowitz). This applies to both trousers and shirts. Can't you choose the right cut? Ask your wife or a consultant in the store for help – they will give you a hint. Do not forget about the V-shaped silhouette.
3. Opt for layers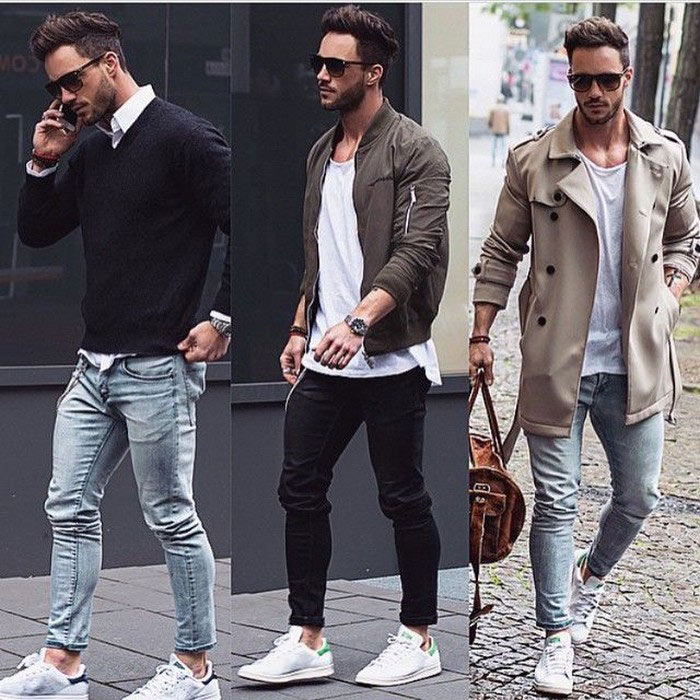 Following the "rule of the inverted triangle", do not be afraid to add a little volume by layering the clothes. For example, put a cardigan over a T-shirt, an unbuttoned trench coat or a jacket. The main thing is for all the layers to be well-combined. Of course, you should not look like a super-layered cabbage either.
4. Seams and shoulders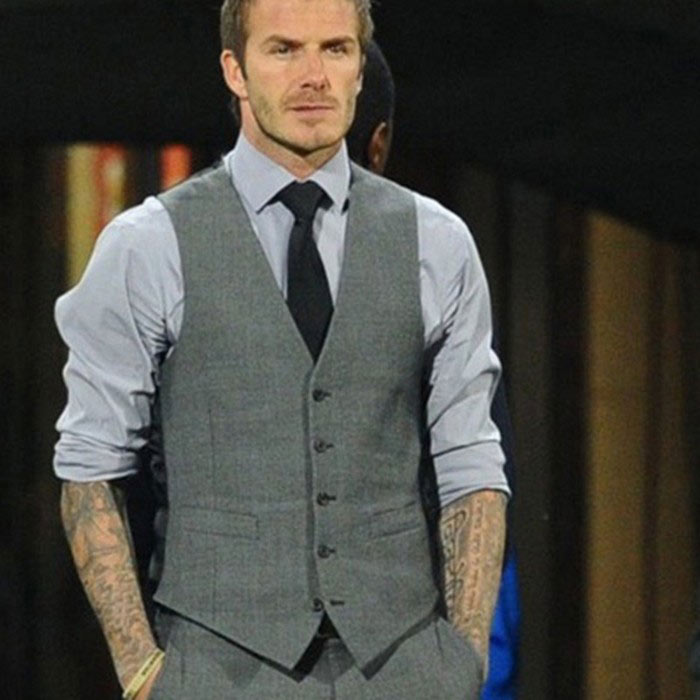 When choosing a new shirt or jacket, be sure to pay attention to the shoulder seams. They should not be much lower than the level of your "natural" shoulder – otherwise it will seem that the thing is too big. The seam should be exactly on the shoulder or slightly higher – this will help achieve the desired V-shaped torso silhouette. Do not forget that the shoulders of the jacket should be moderately stiff and keep the shape in a good way. For the same reason.
5. Prints and images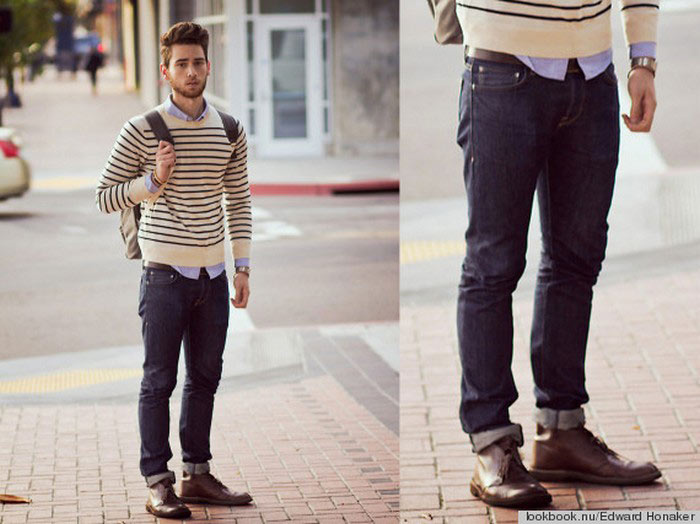 The fact that the vertical strip makes you slimmer and the horizontal line has exactly the opposite effect is known not only to women. Do you want to seem more muscular? Choose shirts and T-shirts with a horizontal pattern (not necessarily a strip), especially in the chest and shoulder area. All sorts of vertical seams and lines should be avoided. Remember that stiff and well-shaped fabrics are your friends. Do not deprive yourself of the pleasure to replenish the wardrobe with a couple of flannel or tweed things, the classic Levis denim jacket (by the way, it has the perfect "triangular" silhouette) or a wool coat.
6. Wear white clothes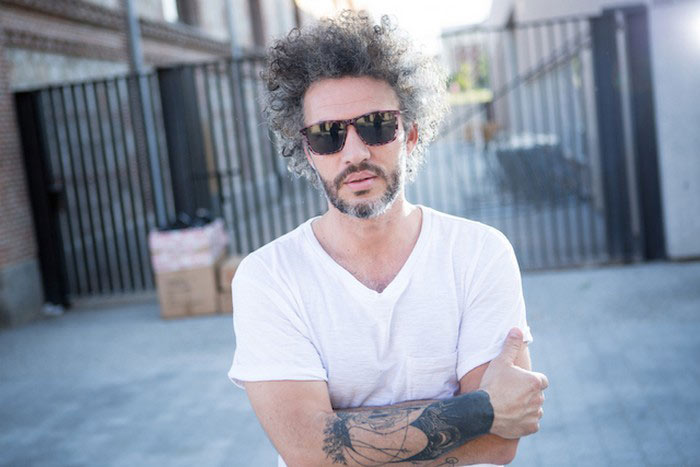 Why doesn't your wife or girlfriend like white jeans and dresses? Isn't it because they "fatten" her? Yes, it's just an illusion. But you can safely use it for your own purposes. Wearing lighter shades (especially white, light gray and light blue clothes) and choosing light T-shirts and shirts can already make a small change and a great compliment to your figure.
Pay attention to this guy's advice. He seems to know a lot about clothes and what ladies really like.