Marilyn Monroe used to say that if she had been given a pair of beautiful shoes, she would have been able to conquer the whole world. The celebrity referred to elegant high-heeled pumps. It's difficult to argue: high heels are really a strong weapon of a modern girl. But there are situations when you need to give preference to nothing but flat shoes.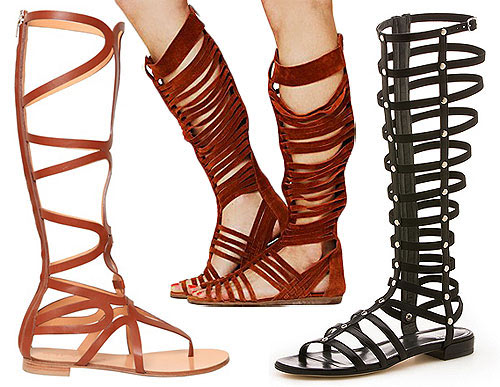 Sandals on the beach
Many articles have been written in glossy magazines about what makes you look appropriate or inappropriate on the beach. Nevertheless, beautiful girl in shoes with heels and lace keep coming to the beaches of different seas; they certainly get stuck in the sand, stumble over the pebbles, and suffer from swollen feet in the heat when the straps just dig into the foot. It is not cool, girls! On the other hand, cheap rubber flip flops are not a solution. They will not give you more beauty and elegance. The most optimal variant of beach shoes is elegant sandals on thin flat soles.
Loafers at a business meeting
If you go to a business meeting with serious people and do not want to look frivolous, you need to show your business skills and verify them with your appearance. And it does not mean you have to look unattractive or mannish – just avoid overt cutouts and too short dresses and replace high-heeled shoes with stylish loafers.
Ballet shoes for a cocktail
Fashion is a fleeting phenomenon. Gone are the days when high heels and shoes on a hidden platform of unrealistic height were a mandatory dress code at cocktail events, social receptions and parties, reminding the uniform of an exotic dancer. After the last year's peak fashion for Louboutin shoes that reached its apogee height of 16 cm, everyone wondered what would happen next. Fashion critics sighed with relief, concluding that a higher heel would really be impossible, so it was doomed to become lower. And indeed, last year's evening activities that did not dictate strict "black-tie" dress code were marked by a different trend. Fascionista women chose lower heels and tried to look more intelligent, more casual, having replaced their exposing dresses and spangles with calmer ensembles or even jeans; instead of studs they put on simple ballet flats. Having changed the shoes, they changed not just the appearance, but their attitude as well – now they are less often treated as stupid dolls, but are increasingly perceived as interesting interlocutors.
Sneakers in a night club
Nightlife dress code was always dictated by the most frequent guests of nightclubs – models, their friends and those who wanted to become models. In any case, fashion changes as quickly as the style of the models themselves. Previously, girls went to disco parties in mini-skirts, tasteless tops that barely covered their breast, and certainly in high-heeled shoes that remained in their arsenal after numerous fashion events. Now models are simply tired. They agree to wear extravagant dresses and high heels only at shows, as they receive a tidy sum for participation in them. They prefer not to torment their legs during the rest of their time. They stick to the "models off duty" style and wear jeans or leggings, comfortable T-shirts or shirts, no makeup and the most comfortable shoes – sneakers or brogues.