An English woman weighing 225 kilograms has managed to lose weight only due to her willpower and appetite restrictions. What played a really significant role was her fear to leave her children orphaned and the sadness of the fact that she would not able to attend her friend's wedding. Now, after five years since the time she started to struggle with weight, Zelda Haxby has restricted her diet. She is preparing for the swimming pool now.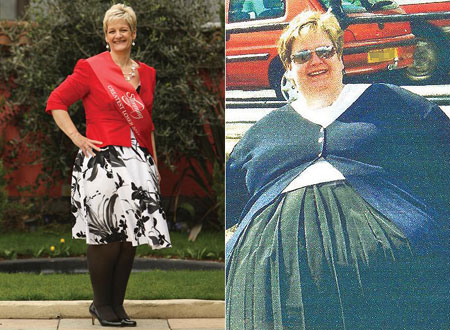 Having married and given birth to two sons, Zelda Haxby became a homemaker. She spent the days in the kitchen preparing dishes for her family and would indulge herself eating some "yum-yum" food. Soon she began "to have a bite" even at night. Having awakened, she would switch on the lamp. In the cozy atmosphere of her kitchen light on, she would eat at night just as during the day. At daytime she could eat up to 15 packets of potato chips.
Once she fell ill with heart and was taken to the hospital. The woman realized that she could die at any moment and would no longer be able to see her children. Only one faithful friend from her childhood kept visiting her. Zelda herself could not leave the house because of her obesity. Zelda learned that her friend was going to get married, and just was in despair. In the late winter of 2007, Zelda learned that her friend would have her wedding in September. And what if she would not be able to squeeze between the rows of church pews?
There appeared a strong desire to lose weight. Zelda began to eat less and as a result of the first year she lost 76 kilos. It was easier for her to go on, but her extra weight became more difficult to get rid of. The Englishwoman weighs 98 kg now, but continues to restrict her diet.
Zelda's case can inspire many women trying to lose weight, drop the diet, and start their weight-losing measures again because sometimes we lack a meaningful incentive to make a breakthrough and not to give up the diet again. Love for children and friendship are the best motives to lose weight, aren't they? Staying healthy for a long time, we can give and receive pleasure from communicating with our dears and nears much longer.
Source of the image: Whatsonningbo.