Below you will see a collection of the weirdest Christmas trees created by famous brands and designers.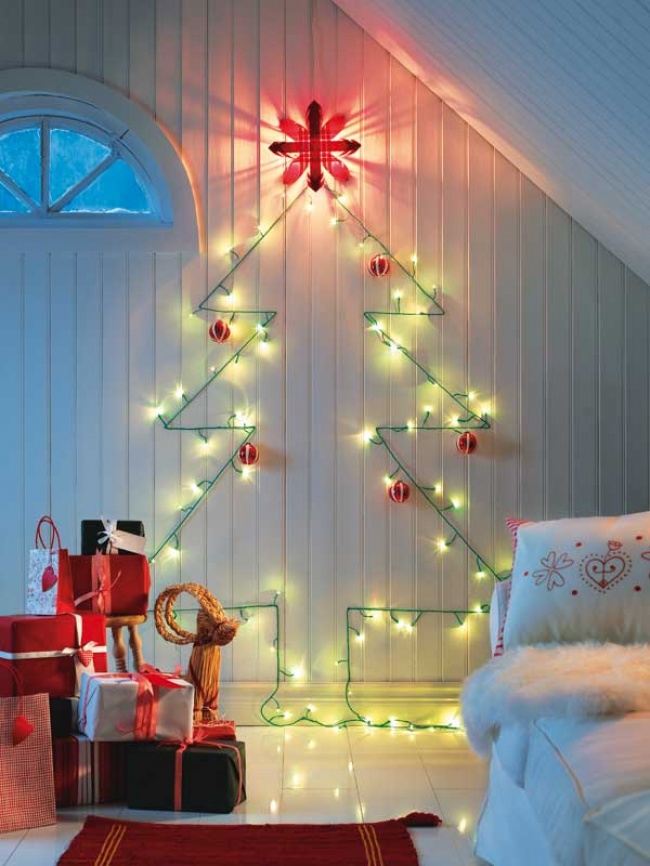 According to a joke, fake Christmas decorations differ from the real ones only because they bring no joy. The same can be said about fake Christmas trees. Of course, they can look very nice, but they will never match the odor of the pine tree needles.
However, there is no better advertising or information medium during the Christmas and New Year season. Users from around the world watch the photos of the most unusual trees.
A Christmas tree made of plastic bottles
In the Lithuanian city of Kaunas, there is a Christmas tree made of 40,000 used plastic bottles. It is put up on the square in front of a shopping center. The concept of an environmental tree was designed by Olanta Smidtienė.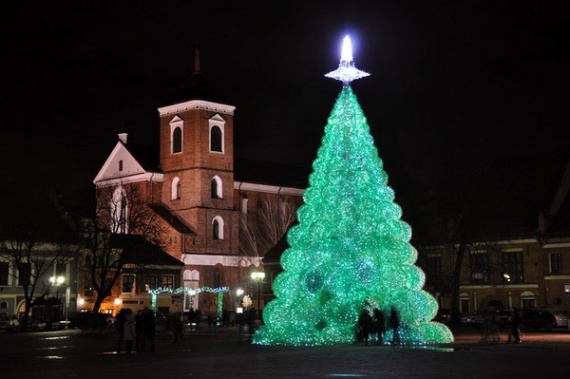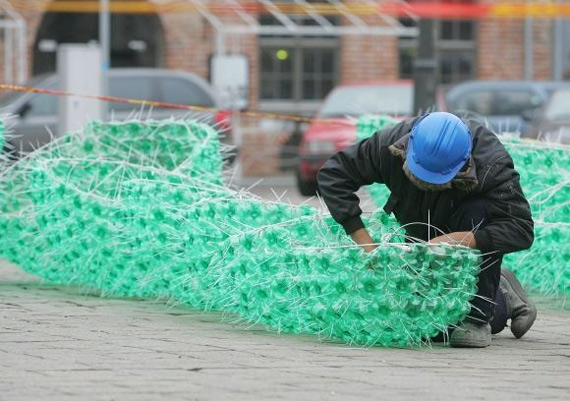 A Christmas tree made of shopping carts
Artist Anthony Schmitt decorated Edgemar mall in Santa Monica with a tree made of shopping carts. Its height is 10 meters. The design of the Christmas tree required 86 metal baskets. This is not the first "shopping cart tree" designed by Anthony, the artist has been making original Christmas trees since 2007.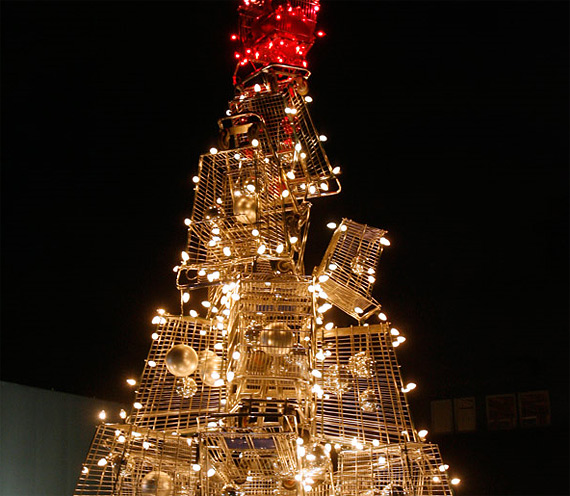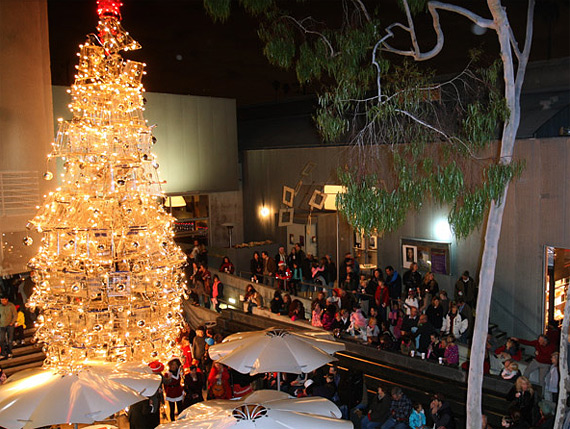 A Christmas tree made of Murano glass
Glass products, created on the Venetian island of Murano, are considered to be the most beautiful, high-quality and expensive ones in the world. This year, an 8.5-meter high Christmas tree made of this glass appeared in Venice. It weighs three tons.
A Christmas tree made of Swarovski crystals
Murano is famous for the world's best glass, whereas the Swarovski company is known for the world's best artificial crystals. They were used to create a Christmas tree in Swarovski Boutique in Singapore.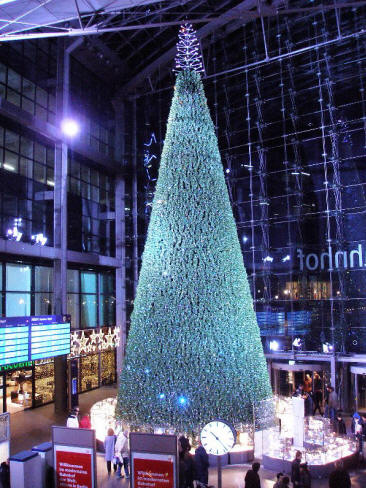 A Christmas tree made of whiskey barrels
A small American town of Lynchburg, Tennessee, is known worldwide as the birthplace of Jack Daniel's whiskey. And, of course, it was in this town that a Christmas tree made of 140 whiskey barrels was created. The opening of such an unusual object was celebrated with the help of hundreds of liters of Jack Daniel's.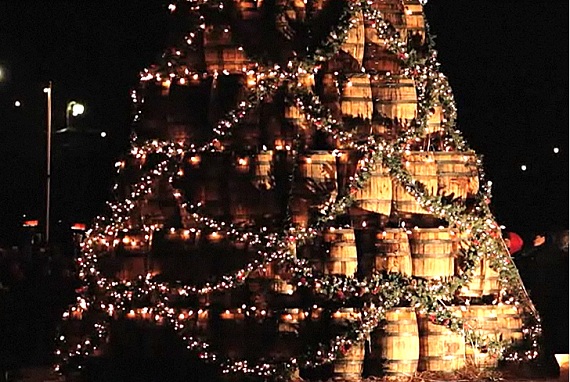 A Christmas tree made of bottles
1000 Heineken beer bottles were used to make a Christmas tree in Shanghai. The creation of a huge Christmas tree required a thousand of green Heineken bottles, whose color proved to be ideal – the Christmas tree happened to be perfectly green.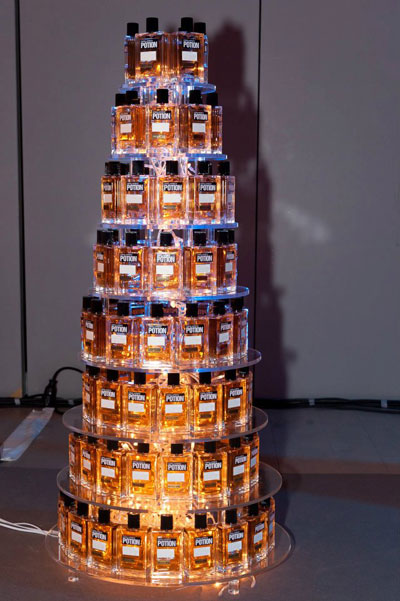 A LEGO Christmas tree
This extraordinary tree consists of 600,000 LEGO bricks, which are used to create 172 separate parts, connected to each other with a steel rod. The LEGO Christmas tree is 11.5 meters high. It weighs about 3 tons. It is set on St Pancras Station in London.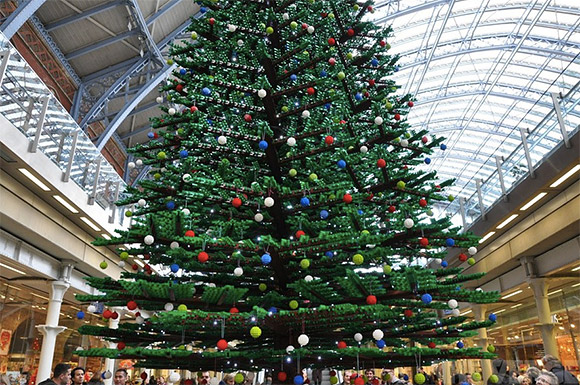 A Christmas tree made of CDs
Audio cassettes and compact discs are getting obsolete. They are replaced by digital audio from the Internet – a cheaper and more convenient format. However, digital music cannot be used to make a Christmas tree that would be similar to the one designed by artist Thomas Deininger with the help of cassettes and CDs.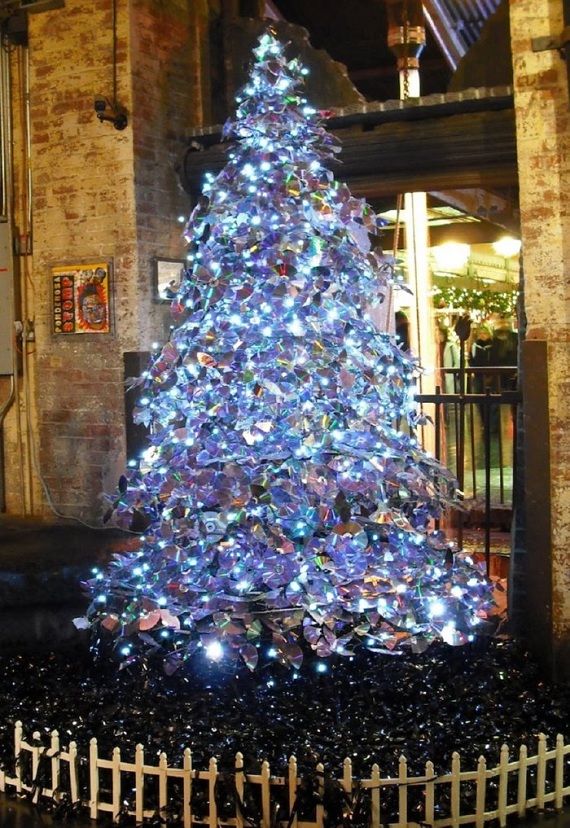 A Christmas tree on the water
A Christmas tree is traditionally decorated on Lake Rodrigo de Freitas in Rio de Janeiro. The 85-meter high tree is considered the biggest tree in the world located on the water. This symbol of Christmas and New Year is comparable in height to the 29-storeyed building, and the weight of the steel structure is 542 tons. Every evening and until January 6, the tree will be illuminated with 3 million lights.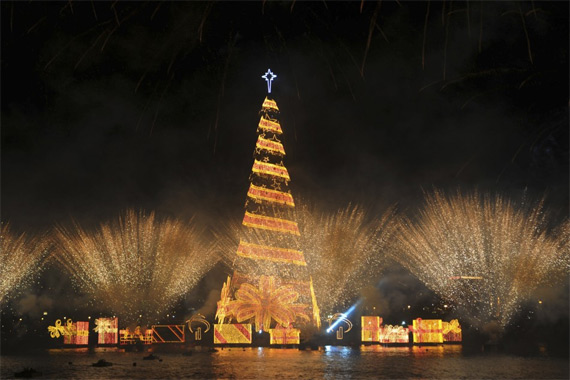 The most expensive Christmas tree in the world
The most expensive Christmas tree in the world (we have already written about it) was decorated in the Emirates Palace Hotel in Abu Dhabi. Its cost was 11 million U.S. dollars. The fact is that it was decorated with the jewelry from the world's most famous manufacturers rather than with the usual Christmas decorations.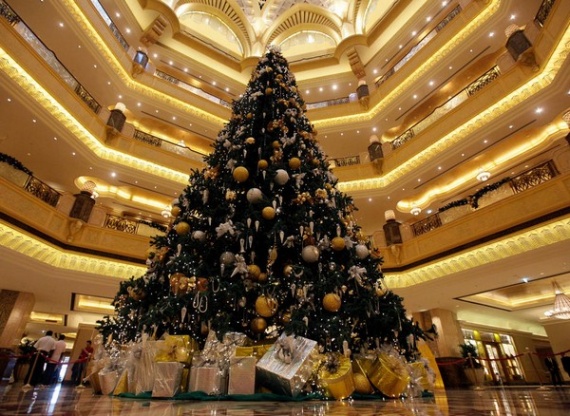 The PAC MAN Christmas Tree
Despite its advanced age for video games, PAC MAN does not lose popularity. It can be proved by a Christmas tree called PAC MAN HOLIDAY TREE, decorated in downtown Madrid.