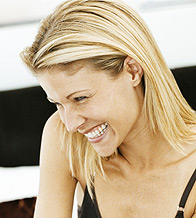 In one of the previous articles named Types of Face Skin Aging I wrote, that I was going to publish a series of articles about different types of face skin aging and how to take care of such skin. Today we'll talk about the first type of skin aging, which is called "tired face". The very name "tired face" is self explanatory: the skin is puffy, flabby, develops earthy hue along the aging process. Disturbed microcirculation is the major contributor to the issue. Here are procedures, which help take proper care of the skin aging this way.
Take Care of Tired Face Skin with Hand Massage
To fight back, one should try different kinds of lymph drainage. Remedy number one – the classic hand massage. Many experts consider this method to be the best so far. Masseurs' skilled hands will improve the blood and lymph circulation across the tissues. Besides, their magic hands work so softly, that you will not feel them at work at all. Remedy number two- technology-based methods.
Take Care of Tired Face Skin with Electrical Lymph Drainage
Electrical lymph drainage (microcurrent, microlifting) is similar to microstimulation; sensors, which "shake out" the face slightly, are attached to skin. The current affects tissues at the cellular level. In addition, the soft tonic effect on mimic muscles enhances collagen and elastin synthesis, which are responsible for skin elasticity.
Take Care of Tired Face Skin with Ultrasound
Ultrasound techniques are perfect at activating cell metabolism, intensifying regeneration and helping eliminate the metabolic by-products. In addition, ultrasound is capable of "opening up" the cells, hence promoting absorption of healthy substances; due to those properties, it is advised to combine ultrasound practice with phnonophoresis and specialty masks application.
Take Care of Tired Face Skin with Vacuum Lymph Drainage
Vacuum lymph drainage acts in the following way: strong differential pressure is created at the surface of the skin; this, in turn, wakens and activates the deeper layers of cells. Extra caution should be taken when performing this procedure on the face, since the nozzles of the vacuum machine tend to pull the skin back, sucking it in, so that if used on aged skin, which has fragile blood vessels and low elasticity, some visible marks may form.
Take Care of Tired Face Skin with Physiotherapy
Physiotherapeutic procedures, unlike the classical hand massages, have quite a few side effects. They should not be performed on pregnant women, those having metallic implants (such as heart pacemaker), people with easily excitable nervous system.