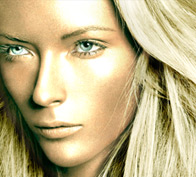 Having a fit and tanned body has become so fashionable these days. But if you spend much time in the gym, this is only beneficial to your health, while visiting solarium too often can lead to negative consequences. For those, who want to have that beautiful tanned skin all year round and not undergo the harmful UV effects, it's recommended to use autobronzants, or self tanners. Here's all the information about sunless tanning.
DHA in Self Tanning Lotions
There are two categories of self tanning lotions with different dihydroacetone (DHA) content. DHA gives the skin the brownish color. The 2,5-3% concentration is good for light skin, while 5% is already for the dark skin. When the DHA percentage is not written on the label, try the product on a small skin patch to avoid unwanted results.
Autobronzant Forms
These days there's a wide variety of sunless tanners, and you can choose any form of it, which suits your skin type best: creams, fluids, gels, sprays. It's better to use self tanning cream with additional moisturizing components for the face – this will help prevent drying of the epidermis. Choose gel self tanner, if you have oily skin, as it has a light texture.
Peel the Skin Before Applying Self Tanners
First of all, before applying a self tanning lotion, your face and body skin needs peeling. Peel elbows, knees and heels especially thoroughly. This will prolong the tanning effect and make it even. You should do the peeling regularly, this helps remove dead cells and prevent uneven skin tanning. Peeling is also good against blackheads.
Tips How to Apply Self Tanners Correctly
Here are some tips how to apply the autobronzant successfully and get an even, perfect skin tanning.
It's better to apply self tanners with a moist sponge. If you do this with your hands, wash them thoroughly after the procedure.
When applying self tanning lotions, don't forget about ears and the back of your neck.
If you have dry skin, moisturize it well before applying the self tanner.
Don't apply self tanning lotions on irritated or inflamed skin.
It's better to choose hypoallergenic self tanners containing no aromatizers – this will prevent allergy to the cosmetic product.
Epilate the necessary zones one day before applying autobronzant.
In order to achieve an even tanning, it's better to apply the self tanning lotion on the clean and dry skin. Don't bath two hours after the procedure. Once this time passes, the skin gets tanned, and the autobronzant doesn't "fear" for water and sweat.
First apply a thin layer of the sunless tanner on your body and face. In an hour or two apply the second layer and don't forget to use less autobronzant in such zones as heels, elbows and knees. Do the procedure regularly to maintain the beautiful tan.
If you need professional tanning, do the procedure in a beauty salon. This can both take less time and help achieve a perfect result.