You don't have to attend a beauty salon every time you want to spoil yourself a little. For instance, spa pedicure can be easily done at home, by yourself. Any beauty salon treatment has a well defined order of procedures; those procedures often need to be done in a particular time range. The sequence of those actions is given in a special "protocol", and they are carefully followed by beauty specialists. Here is an example, which follows spa pedicure salon instructions.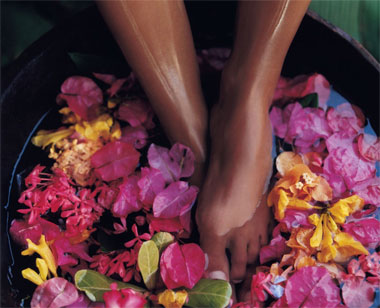 Soften the Skin
Light some aromatic candles and play some soft music to create relaxing environment. Pour water into a tray; the desired water temperature depends on your condition, as hot water is bad for pregnant women, or those who suffer from varicose veins, heart disease, or high blood pressure. Dissolve some sea salt in the water; you can also add herb tea too. The resulting solution is great at softening and deodorizing skin.
Put your feet into the tray and keep them immersed in the solution for 3-5 minutes. To enhance the effect of this solution you can also add few drops of essential oil, for example, lavender oil, which is well-known for its soothing, hydrating, and healing properties.
Do the Peeling
Apply scrub to dump skin with circular motions. Start from the heels and gradually move to the toes. Massage the feet for 2-3 minutes, then rinse the feet and towel dry. After this procedure you can move on to deeper peeling, if necessary.
Put some solution on tissue and apply it to the problematic zones on the foot. Wrap your feet in a towel and wait 5-7 minutes. Then, remove the callouses using a pumice. Repeat the procedure on the other foot.
Moisturize the Feet Skin
Apply a thin layer of a special mask to the feet and ankles. The mask can be easily replaced with a moisturizing or nourishing cream. Then, wrap your feet tightly in the towel. After 5-7 minutes take the towel off and remove the excess cream or mask.
Massage Feet and Ankles
For this procedure, which is the most enjoyable part of the spa pedicure, use some massage oil or cream. Apply the substance to the feet and ankles and massage them.
Surely, the process will be by far more enjoyable if it is done by your beloved one.
Source of the image: salonlakenona.com.