Guerlain has produced an unusual novelty for Summer 2013. It is a scrub with… tanning properties. The two things may seem to be incompatible. However, these two products just have to be a single whole in summer.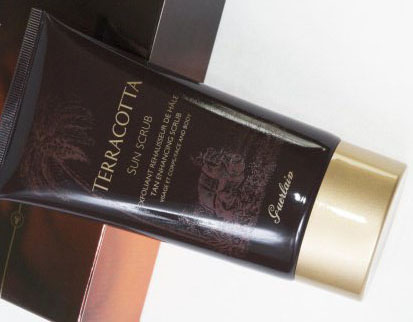 The novelty belongs to Terracotea Summer 2013 collection by Guerlain, and the product was released under the name Sun Scrub. This cleanser has a peeling and tanning effect. The main purpose of the product is to prepare the skin for tanning.
Sun Scrub has a pleasant scent and moisturizes the skin. The product comes in the form of a gel with microbeads, and it makes peeling a very mild procedure. After applying the product, the skin is unprotected and a little toned; it gets a shade of light tan. You can apply the novelty on the face and on the body: fortunately, the tube is quite large in volume. Daily use is allowed.
In general, Guerlain has managed to reconcile the irreconcilable: the dead cells are removed, and the skin is covered with a light bronzer touch.