Experiments with hair color are a usual thing for many women. Playing with shades can dramatically change the image or add colorful notes to your appearance. Colored hair gel, hairspray with iridescent tints, color mascara, neon crayons, as well as rich colors will make your look more vivid and original in an instant and without extra care.
Modern hairstyling offers women many techniques to change their hair color. Coloring, highlighting, creating a gradient effect, and Ombre are just at the beginning of a long list. All of these procedures provide long-lasting results. In most cases, this is good news for the owners of healthy hair. But there are situations in life when you want to look great here and now, having changed beyond recognition or with the possibility to regain your former appearance. And then you can use surface means with rich colors. They do not penetrate into the hair structure and are easily washed off.
Color hair gel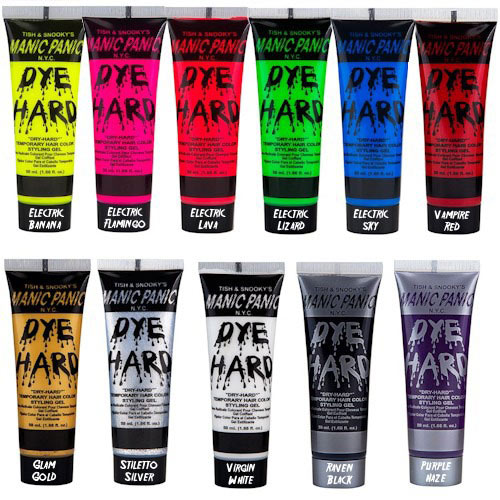 This is a great option for a party in a nightclub or a masquerade. The product has a gel texture that spreads easily over the entire length of the hair from the root to the tips. Fixing the hairstyle becomes an additional bonus. A wide range of colors can satisfy the most sophisticated fashionista. In the club lights, neon glowing colors (pink, green, blue, yellow and orange) will glare brightly, attracting attention and arousing admiration.
Together with the gel, manufacturers often produce special applicators to simplify the use of products for the hair. Color gel is easily washed off when in contact with water. Do not use it in rainy and snowy weather.
Hairspray with iridescent tints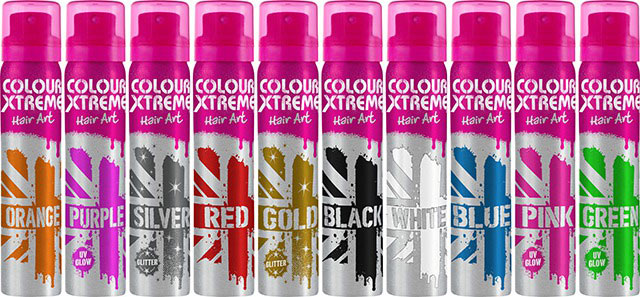 Color hairspray is the prerogative of festive events. Many women enjoy the pleasure of looking spectacular and irresistible at a family celebration, or during a friendly holiday with colleagues in a cafe. The hairspray is well kept on the hair, helping to keep its shape; it is absolutely safe and is washed off after the first shampooing.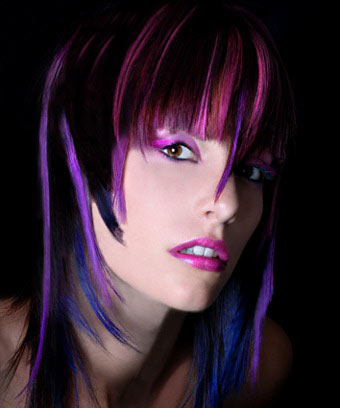 To create a festive styling, apply tinting hair spray on separate strands of hair. Choosing the color, pay attention to the recommendations of the stylists. Bright colors of blue, green and red look spectacular on light hair, whereas gold and silver tones will emphasize dark hair to advantage. Tinting sprays with iridescent glitter will adorn the hair of any color.
After applying the color hairspray and its subsequent rinsing, the hair stylists advise to use a moisturizing conditioner or a hair mask because color sprays can dry your hair.
Color hair mascara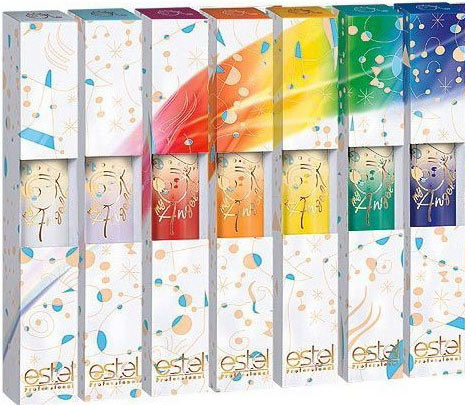 This popular product comes from the 1990s, though today it has received a new interpretation. This mascara formula was revised and improved. To protect the hair from drying, the manufacturers have enriched this beauty product with moisturizing vegetable oils, lanolin, beeswax, and silk proteins.
The color palette of this mascara is bright and cheerful; you can always pick a shade that will mix well with your mood. Flamboyant fashionistas will like the extravagant bright crimson color; a romantic beauty will be delighted with the delicate pastel shades of mint. After creating a spectacular styling, you should carefully comb your hair (or trim it with your hands) and sprinkle it with hairspray. Plenty of compliments are guaranteed.
Neon hair crayons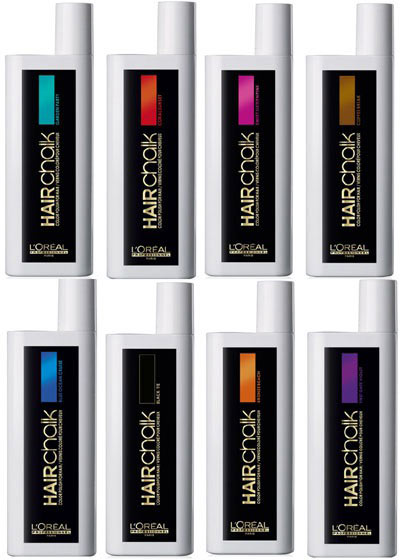 If you want to save the strength, health and shine of your natural hair color, get some colorful crayons. This unique product influences the hair surface along its entire length and is ideal for home dyeing. Hair crayons do not dry the hair, do not lead to hair breaking and thinning, and the result preserves for several days even with daily hair washing. Shake the L'Oreal spray, apply it on a special applicator that comes in the product set and apply it on the hair. Wait for a few minutes until the product dries and fix the impressive result with a hairspray.
If the dye shade from the manufacturer seems too thick and heavy, you can achieve the desired result by mixing the product with purified water. Crayons are a quick and easy way to diversify your style.
Juicy hair dyes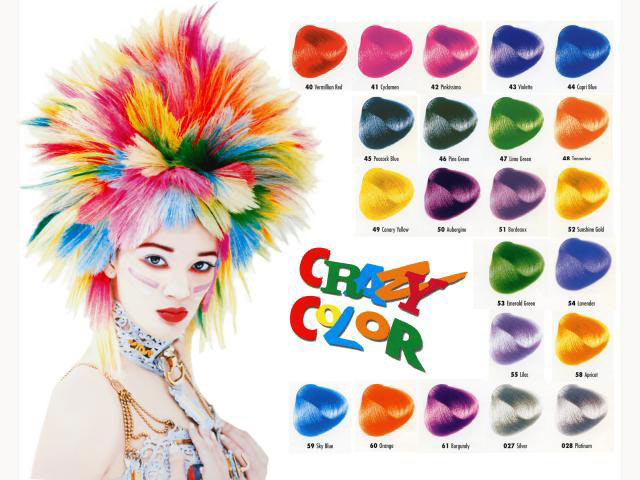 Professional Crazy Color hair dye with defiantly bright fantasy palette of shades blurs the boundaries of imagination even if you are a maestro with a worldwide reputation. Leading hairdressers and stylists of fashion houses have been giving preference to these dyes for several seasons in a row. However, one can achieve a luxurious deep color even at home.
Take care of your hair hygiene with the help of usual shampoos, apply the dye on still wet curls, and spread it on the hair with your hands until you get white foam. Keep the product on the hair during the required time (according to the instructions and depending on the desired result) and rinse the hair with warm running water. Your hair will delight you with a luxurious lilac, spruce green, lavender, pale lilac, fiery red or any other color. Please note that Crazy Color is a resistant dye that lasts on the hair for a long time, but if you wish, you can radically change the image once a month. The spectrum of colors that the manufacturers offer is delicious.