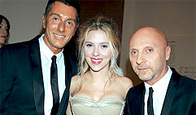 Domenico Dolce and Stefano Gabbana create clothing, perfume and accessories like nobody's business. The time has come to enter new markets – Dolce&Gabbana are launching their cosmetics line. The face of their line will be a woman who's now at the height of popularity.
But it is not Naomi Campbell, a friend of famous Italian duo. It is Scarlett Johansson who newly got married and is now touring around the world to promote "The Spirit" movie. Rumors that the actress will be the face of the brand have been around for a long time but the campaign was kept under wraps.
The designers think of their line unconventionally. They see makeup as a dress. So the duo worked on the color cosmetics line like they worked on a clothing collection. They believe women can change makeup like they change clothes, depending on their mood.
Each item of the Dolce&Gabbana makeup line will be packed into black velvet pouches, and the lipsticks will be scented with rose. The designers wanted to create makeup with a scent. They confessed that the inspiration came from their childhood memories when they opened their mother's cosmetics bag and the scent of her lipstick was coming out. They also noticed that any woman always smells cosmetics before applying it.
Unrivaled photographer Solve Sundsbo created Marlin Monroe-inspired shots for advertising campaign. It is curious to see how Johansson looks on those shots.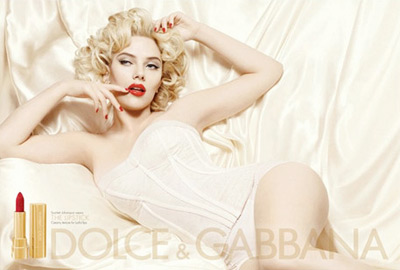 Dolce&Gabbana makeup line will hit stores the coming spring. Retail price for nail polish is $20 and powder foundation for $60.
Source of the image: stylefrizz.com, people.com.