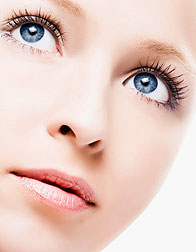 Wondering where those bags under eyes come from in the morning and how to avoid them? Doctors claim, there is a number of the factors causing bags under eyes. The first cause is heredity. Other reasons why bags under eyes occur are allergy, lack of sleep and hormonal changes connected with woman's menstrual cycle. Bags under eyes can also occur due to excess water in the body, stress, poor dietary habits, bad blood circulation, frequent alcohol intake. Obesity and common fatigue also contribute to this condition. Below you will see, what can be done to get rid of bags under eyes.
Ice to Treat under Eye Bags
One of the simple methods to get rid of bags under eyes is ice pieces made from herbal infusion. The salvational coolness is made in a usual freezer and is applied under eyes for 3 minutes. This procedure helps stimulate blood circulation and removes puffiness.
Mask and Herb to Treat Bags under Eyes
Other ways of treating bags under eyes are compresses made from fresh tea brewing, which should be applied to eyes for 10 minutes. In order to reduce puffiness it's recommended to apply a mask from parsley leaves cut into very small pieces. Lay a wad of cotton wool over the mask.
Depending on the cause of the bags under eyes another treatment method is available, namely facial exercises and some eye exercises.