If you do not use any skin serum – you just do not know which one to choose. If you find "your" product, you will never give up the advantages that a serum gives.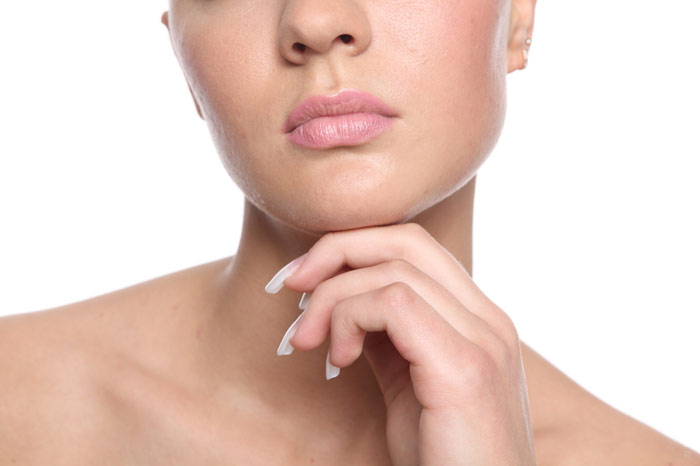 Serum has become an integral part of daily care for modern women. Perhaps due to this product women look much younger today than a decade ago.
Skin serum is a product in the form of a gel or light cream, which contains higher concentration of active ingredients, such as antioxidants, whitening agents, moisturizers. This makes them more powerful in effect. But also more expensive.
The main objective of serum is the fight against the signs of aging. And if you need serum mostly for prevention at the age of 20 years, at the age of 40 the product must effectively deal with the process of skin aging that has already begun. That is why at different ages you need different products.
Serum at the age of 20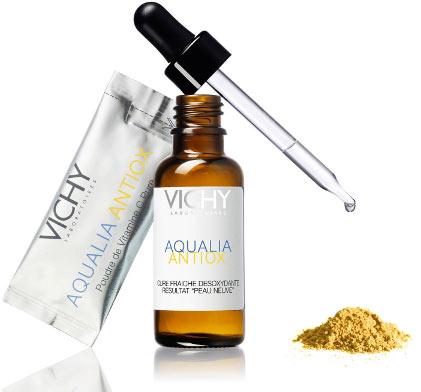 The serum with antioxidants for young skin Vichy Aqualia AntioxAn
When you are 20 or 25, the skin looks great: it is well moisturized, soft and supple. Both wrinkles and pigmented spots are not spoken about yet. In this condition, the skin does not require the ingredients that would stop premature signs of aging. A product rich in antioxidants that fights free radicals and prevents premature aging is the perfect serum for 20-year-olds.
Choosing the best product:
For normal skin, one needs a product with antioxidants and vitamins. These components work best when they are together, enhancing each other's effectiveness. The combination of antioxidants and vitamins helps prevent skin damage caused by oxidative stress and UV radiation.
For oily skin, look for the same composition, but the texture should be equally light. The most effective composition contains resveratrol (an antioxidant) plus vitamins C and E.
For dry skin, the serum should be enriched with an ingredient that reduces moisture loss and keeps the skin moisturized, e.g., niacinamide, stem cells, or hyaluronic acid.
Serum at the age of 30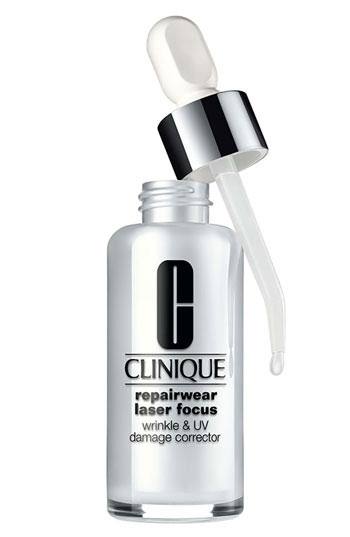 Clinique Repairwear Laser Focus serum
After 30, fine wrinkles start to appear; very often they are visible only to you. Still it means it's time to include retinoids into the list of your care products. Retinoids (retinol and other derivatives of vitamin A) reduce wrinkles in the skin by stimulating the production of hyaluronic acid and collagen which keeps the skin elastic. They also prevent the emergence of new first wrinkles.
However, one should be especially cautious with the ingredients like retinoids. Firstly, during the first use, they can irritate the skin. In such a case there is a simple way out: start applying the product not every day, but once in 2-3 days. Secondly, retinoids are not suitable at all for sensitive skin. And, thirdly, retinoids make the skin sensitive to sunlight, so you have to increase the protection from the sun.
In addition to retinol, the perfect serum for 30-year-olds should contain antioxidants, vitamins C and E, as well as anti-irritants (soothing ingredients). And if the skin is dry, look for the serum to suit your skin type – it must contain effective moisturizing components.
Serum at the age of 40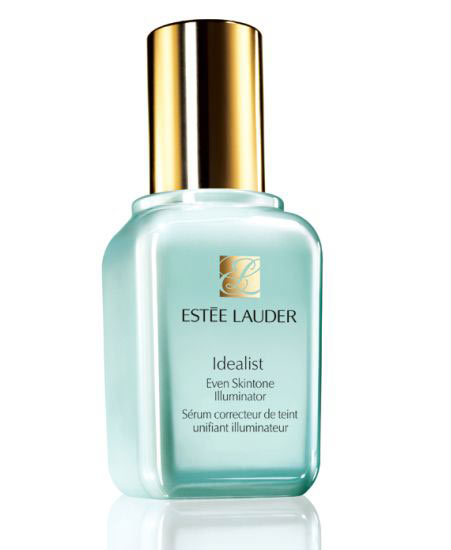 Estee Lauder Idealist Skin Serum that is lightening age spots
When you get older, the importance of constant exfoliation increases because the process of skin cells renewal slows down. Regular exfoliation helps reduce the growth of wrinkles and age spots. For these purposes alpha hydroxy acids (AHA) are the most suitable ones, they exfoliate, moisturize and stimulate the production of collagen. The most popular and effective AHA-acids that must be in the serum for 40-year-olds include the following: glycolic, lactic, and mandelic acid. It is even better if the serum contains a combination of several acids.
Moisturizing is a necessary condition for the age-fighting product. Because after 40 skin becomes drier (the whole body and its separate parts). Unequal rate of moisturizing and exfoliation leads to age spots and dark patches of skin. Hyaluronic acid solves the problem of wetting effectively.
One more ingredient that is added to the daily care after the age of 40 is peptide. It helps reduce wrinkles.
Thus, the ideal serum for 40-year-olds should be composed of: AHA-acids, hyaluronic acid, antioxidants, retinol, peptides.
Serum at the age of 50 years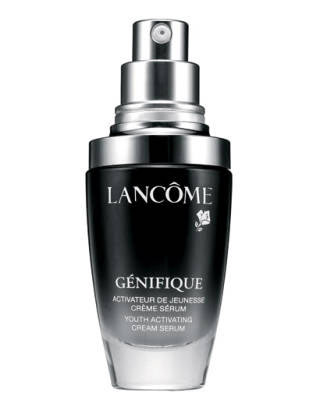 Hydrating Lancôme Génifique Cream Serum
After 50 years, the skin serum should fight wrinkles, improve skin texture and brighten dark and pigmented spots.
For a long time, hydroquinone has been used as the only skin-lightening ingredient. Recently, however, there appeared a large number of doubts about its safety. Although many anti-aging serum products for 50-year-olds may still contain hydroquinone, there appeared healthier lightening alternatives, such as licorice extract and arbutin.
In addition to lightening ingredients, the serum for women over 50 should have a high concentration of glycolic acid, vitamins A, C and E; sometimes the product may contain caffeine which copes well with edema and is an excellent antioxidant.