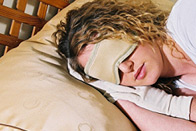 If you are trying hard to smooth your wrinkles, new invention from Israeli scientists is what you need. Ladies who spend a lot of money on Botox injections and rejuvenating creams can sleep a peaceful sleep now. Here is a special offer for them, a pillow that smoothes wrinkles within relatively short period of time.
The secret of the pillow from Cupron is finest copper wire interlaced into the fabric. Experiments show that this pillow can smooth fine facial wrinkles within a month. But it feels like a regular pillow.
Clinical trials involved 57 volunteers. For a month, some of them slept on a new magic pillow while the others used regular pillows. Follow-up examinations show that most of volunteers who slept on the new pillow saw many of their wrinkles disappear.
In U.S. only, 10 000 pillows have currently been sold for $35 each. New rejuvenating remedy will be selling in Europe soon.
Scientists explain the rejuvenating effect of the pillow comes from the fact that facial skin can free copper ions from the fabric, which promotes the production of collagen. However, British medical professionals are skeptic about the new gadget.