Body wraps are a cosmetic procedure, which is meant to create a greenhouse effect in problem areas with a special film and cosmetic products. This procedure may be done not only in the SPA- salons, but also at home.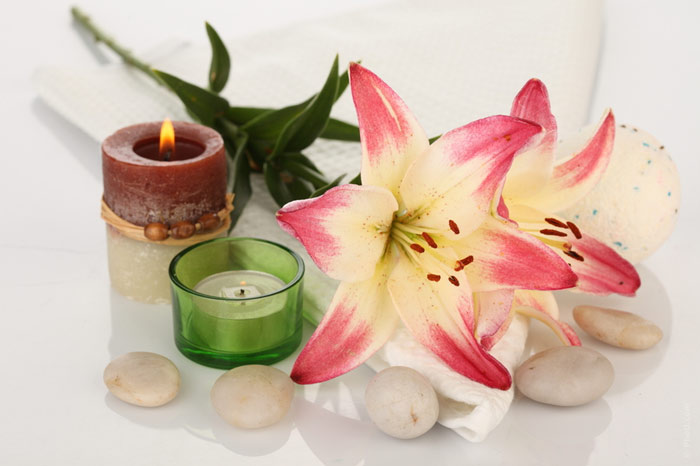 How Do Body Wraps Work for Fat Loss?
Greenhouse effect activates skin blood circulation and increases the activity of sweat and sebaceous glands, which clean the wrapped areas. The cosmetics used for wrapping are generally applied in a thick layer and covered with a plastic film to prevent the feeling of tightening, as it happens with masks. For best results of home wraps, complete rest and relaxation is advisable. The aim of the procedure is for the skin to be nourished by all the necessary substances contained in the wrapping mixture. The pores get narrow, and skin texture is slightly smoothed. Wrapping promotes the resorption of cellulite plaques, gives the skin elasticity and smoothness, reduces the volume, enhances blood circulation.
Preparing for Body Wraps
Clean the skin with a scrub or peeling with sea salt or seaweed extracts. You can massage problem areas using a scrub.
The mixture for wrapping should be smooth and elastic; otherwise you will not be able to apply it to the skin. Carefully powder seaweed and stir all the ingredients.
The mixture is applied in thick or a thin layer on problem areas – thighs, buttocks, and abdomen. Wrap the treated areas with a plastic film for it to warm up and better absorb the microelements contained in the mixture. The film will retain heat and not allow the mask to dry. Then wrap yourself in a blanket, or a sleeping bag, if you have one. Some wraps require moving.
Wash off the remains of the wrap in the shower, and you can take a bath with sea salt afterwards, and then apply anti-cellulite cream or a tonic.
The course of home wraps should include 5-10 or more procedures. It is best to repeat them every two days.
There are contraindications to the procedure – consult with your doctor.
1. Weight Loss Body Wraps
An effective wrap for weight loss and cellulite is made of honey + 2ml papaverine (ampoules) + 2ml caffeine (2 ampoules). Mix the components, apply on the skin with massage movements (abdomen, buttocks, thighs), cover with a film and leave for 3 hours; put on warm clothing or underwear. For better results you should move – do sports, cleaning, or dancing. Then take a shower and apply body cream.
2 . Body Wraps Based on Coffee
Ingredients:
2 amp. caffeine, ground coffee, white clay. Instead of clay, you can also use honey.
You can add a few drops of citrus essential oils.
Dissolve white clay in warm water to get a thick cream, warm the resulting mixture, add caffeine. When using ground coffee, dissolve it in a small amount of milk and stir. The resulting mixture should be applied to problem areas and wrapped with a food film. To enhance the effect, cover your body with a warm blanket or put on warm pants . The procedure takes 30-40 minutes. Then remove the film, take a shower or a bath. For maximum effect, apply anti-cellulite cream.
When done regularly, coffee wraps can significantly reduce cellulite and help lose weight.
3. Mustard & Honey Body Wraps for Weight Loss
Ingredients: mustard, dry powder and honey in equal parts.
Add a few tablespoons of mustard into hot water – for better mixing with honey. Apply onto problem areas under a plastic wrap, put on warm shorts and a belt. Move fast for about 20-30 minutes. Mustard will get hot – this is normal. Make a test to check if you have allergy to honey and mustard.
4. Anti-Cellulite Body Wraps
For anti-cellulite wraps, you can use clay, algae, mud, essential oils, warm honey, etc.
One of the options is 2 tablespoons of kelp or seaweeds (available at drugstores). The algae should be poured with warm water and left for 15 min. to swell. Then add the egg yolk, 10 drops of essential citrus oil and 20 drops of camphor oil. Mix the components well and spread a thick layer over problem areas. Wrap with a film. The wrap is rather dirty, so you will need oilcloth, a sheet and a blanket, you can lie down for 30-60 minutes. Then take a shower and apply body cream.
Oil Body Wraps as Cellulite Treatment
The basis of such wraps is wheat sprout oil, olive oil, hazelnut oil, almond oil, jojoba. Add essential oil or a blend of essential oils. For 20 ml of base oil, add 3 drops of lemon, juniper and lavender oil. Essential oils are thoroughly mixed and then added to the base oil.
Apply the oil mixture onto the problem areas, then wrap the body with a plastic film. It is desirable to put on warm clothes. You may actively move, or lie under a blanket for 0.5-1 hours. Then, take a shower and apply anti-cellulite cream.
Body Wraps with Green Tea
Ingredients: 5 tablespoons of powdered green tea, 2 tablespoons of honey, half a teaspoon of cinnamon, hot water.
Preparation: pour boiling water over the powdered tea to get a paste, then add honey and cinnamon and mix until smooth. Apply the warm mixture onto the problem areas, wrap with foil, and lie down under a warm blanket for 30-60 minutes. Wash off with warm water and apply anti-cellulite cream with massaging moves.
Effect: fights cellulite wonderfully, smoothes and awakens the skin, tightens and strengthens it, produces an antioxidant effect. Green tea wrap is contraindicated to people suffering from varicose veins and appendages inflammation!
Body Wraps Contraindications
Hot wraps are contraindicated to people with varicose veins. In such case, only cold wraps are allowed.
Any kinds of wraps are contraindicated to women with gynecological diseases (avoid warming of the pelvis and the belly), cardiovascular diseases, hypertension, pregnancy.
Seaweed is contraindicated if there is a problem with the thyroid gland.