Megan Fox started getting second thoughts about her appearance, and the one who has to go first is Marilyn Monroe, that is, her large tattoo that decorated Fox's right forearm. When she was asked why by Italian fashion magazine Amica, the star replied that she no longer wanted to carry on herself a picture of somebody whom she considers "a negative person" that might draw in negative energy.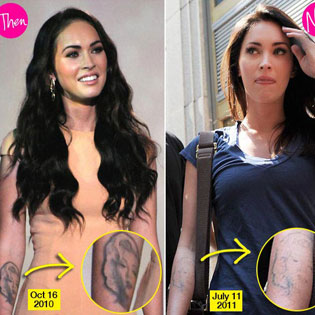 Fox characterized Monroe, who is believed to have died from a drug overdose in 1962 when she was 36, as bipolar and disturbed, and said she has already started to erase the tattoo by laser treatment.
The 25-year-old is pretty high on tattoos, she's got a tribal wrist tattoo and several quotes, in particular the one on the ribcage that pays tribute to Mickey Rourke from the time of their Passion Play acting. They may go too, and Fox would have been more definite about it if the laser didn't hurt.
Her naval piercing that she had since she was 16 had already been removed, she confesses. It had been her Britney Spears fan display, "the only time I tried to imitate someone else," said Fox. But she had it removed when she turned 20.
Source of the image: Hollywoodlife.