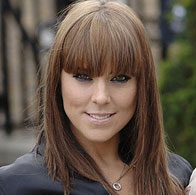 Mel C asked her former bandmate Victoria Beckham to help in planning her wedding. Now pregnant with the first child Mel C has announced engagement to her boyfriend Thomas Starr. Mel's baby is expected in March, and the couple are set to wed in July. Mel and Victoria have become very close since last year's Spice Girls reunion tour. Mel knows that Victoria has useful contacts and many ideas to make a marriage ceremony extra special and memorable.
Victoria is already an experienced wedding planner. She helped Katie Holmes and Tom Cruise with the planning for their 2006 wedding in Italy. Cheryl Cole, who married soccer star Ashley Cole, turned to Victoria for advice as well.
Victoria Beckham has already chosen wedding ceremony site – St. Peter's church, near Liverpool – where Mel comes from. Roberto Cavalli was asked to design the wedding gown.
Hopefully, vegetarian Victoria won't be in charge of the wedding menu.
Photo of Melanie C: metro.co.uk