Time is said to be a great healer of love failures, and if you believe western tabloids, Vanessa Paradis has already checked this truth on her own experience. According to the rumors, the actress is no longer sad because of the break-up with her boyfriend for the past 14 years, Johnny Depp. There is a new man in her life.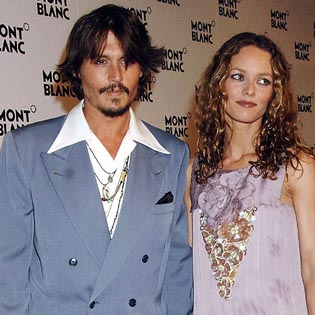 Depp's ex-beloved chose French millionaire Guy David Gharbi, whom Paradis has been dating for several months.
Guy is quite famous in his homeland: he owns the Usinedeco company that produces furniture. In the media it is often called "French IKEA", and Gharbi is known as a smart, rich, and handsome man.
Guy and Vanessa met during a flight from Los Angeles to Paris in May this year and exchanged their phone numbers, but the relationship developed gradually, as Vanessa was going through her separation from Johnny:
"But Vanessa and Guy-David have become close over the last few months and even though they are still taking things slowly, they are dating now. Guy-David's made his feelings clear for Vanessa but told her he's happy to give her all the time she needs. "
During the summer the imposing Frenchman supported his new girlfriend and took care of her in every possible way. As a result, Paradis could not resist the pressure of his charm.
"They've been going for quiet romantic dinners in Paris and just enjoying each other and having fun. It's been a very healing thing for her. Guy-David's put a smile back on Vanessa's face, she looks younger and is even singing and writing songs again".
Johnny approved the choice of his "former" woman. People say that he just wants Vanessa to be happy. The main thing for them is to preserve their relationship because their children have always been and will be the most important thing to them.
In this regard, Vanessa did not consider it shameful to bring her new boyfriend to her former family. Johnny actually presented Vanessa with a house in the south of France, telling her that this house would always be her home. She had stayed there with Guy a week before leaving with the family for a vacation in Saint-Tropez.
Who knows, maybe Johnny and Guy will soon make friends and will go sailing on a yacht together. High, high relationship!