It all started in August with Bella and Edward offered to the ardent admirers as impeccably made barbies. If you ever wondered who was the next one to be turned into a home cutie, now you know – it's Jacob!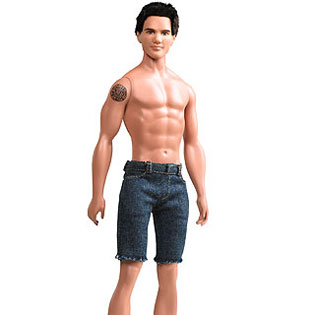 Unfortunately, the Taylor Lautner's doll won't be changing its form and you will never see a barbie werewolf – just a boy with the familiar impressive muscular torso running down into denims cut up into shorts, looking straight into your eyes with an inscrutable and maybe faintly disquieting gaze. Good enough not only for kids, isn't it?
Coming out in February, the New Moon's Jacob will retail for $24.95.
Source of the image: people.com.