Channing Tatum is certainly worthy of PEOPLE's picking him for the 2012 Sexiest Man Alive (it's enough to remember his extraordinary body display in Magic Mike!), but he didn't take it in so easily when he learned that the title was his.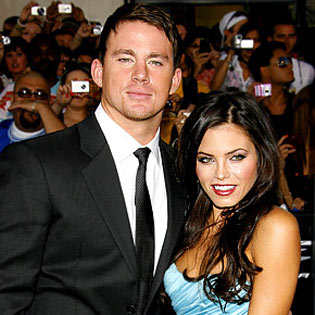 Tatum thought at first it was a joke, and it took some believing before he decided to break it to his wife, actress Jenna Dewan-Tatum. He waited until they gave a good wash to their dogs who had dirtied themselves and then shared the news. She was astonished to hear that, but soon picked up – and now she's calling him by his newly-earned title!
Tatum, 32, Alabama-born, former model and nightclub stripper, has built up 195 pounds of sheer muscle and watches over his body with an eagle eye so as not to become too hunky or too soft. "I like to be lean," he says. "If I get too bulky I can't move well and I like to move." He is expected to appear next as an Olympic athlete in the movie Foxcatcher due 1913.
He married his Step Up co-star Jenna Dewan in 2009, and after three years of marriage they are ready for children. Tatum confides that he is all for having something like 15 children, but is afraid that his wife (who can always rely on him for a massage) will opt out. So he bears in mind the initial number of three kids, "but I just want one to be healthy and then we'll see where we go after that."
Dewan-Tatum, who is a year younger than her husband, describes him as "emotionally deep" in addition to his on-screen sexy and amusing personality. He is open-hearted and one always knows where one is with him is another quality she appreciates.