Paris Hilton is newly single as she broke up with Doug Reinhardt (again). But this time it's serious. Looking at Doug hitting on Kristin Cavallari you can't say he's missing his ex. Paris is looking buoyant too, despite her reportedly stress-related weight loss.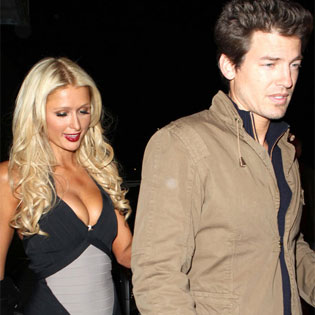 Well, nothing can comfort better than starting a fling. But Paris didn't want a cat in the bag thing and so she started dating her long time ex-boyfriend Jason Shaw.
Paris and Jason were spotted having a night out at Woo Lae Oak, a Korean restaurant in Los Angeles. After the dinner Paris tweeted "SO much fun tonight".
Unfortunately, Paris said no more than in this short message. A source close to Shaw, however, revealed Jason got very emotional over the news about the break-up between Paris and Doug.
'When Jason found out that she had ended her relationship with Doug, he was thrilled and made plans with her right away,'
The same source said:
'Paris has always loved Jason and cared about him deeply. But when they were together she was just a kid and not ready for such a commitment,'
Hilton and Shaw dated for several years before Paris started love affair with Nick Carter.
Source of the image: celebslam.celebuzz.com.