Monica Bellucci is undoubtedly one of the hottest Italian beauties. And even now, at the age of 47 years, the actress has not lost her appeal, her bewitching unique charm and femininity.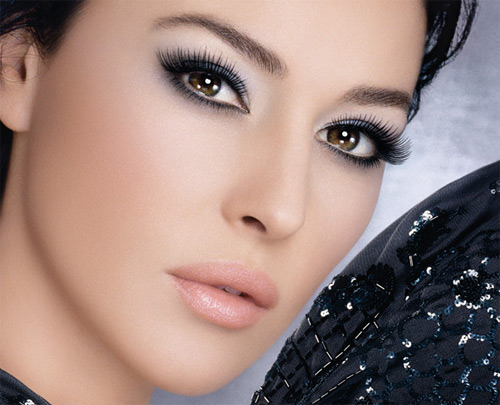 Skin Care
Monica Bellucci begins every morning with taking a cool shower, which tones her skin and produces a tightening effect. She also pays great attention to moisturizing her skin. Monica chooses a light-texture cream or serum and often uses a refreshing facial spray or thermal water.
Makeup
Makeup is a special form of protection for women, in the sense that when you are not wearing makeup, you feel more vulnerable. It is like armor. According to Monica, it is also a way to create some distance between a woman and other people. Monica Bellucci prefers not very bright makeup. She uses little foundation. Then she emphasizes her brown eyes with very light shades of light gray or brown colors. She also adds a bit of lip gloss or lipstick of natural shades – beige, terracotta, and coral.
Monica really likes Dior lip glosses. In the evening, she can use the red color. If it is clear red, the actress chooses it for day makeup as well. Sometimes she uses ball blusher to make her face glow. As for everyday life, Monica Bellucci admits that she manages completely without makeup. But the essential components of her cosmetic bag include the lip gloss, mascara and day cream.
Hair Care
Monica usually washes her hair once or twice a week and dilutes the shampoo with water. The actress believes that the concentrated shampoo is harmful for the hair. In addition, Monica Bellucci tries to use a hair dryer as little as possible. She makes hot styling only before special occasions. In addition to washing the hair, Monica always rubs olive oil into the hair roots. This makes her dark hair silky and shiny.
Monica Bellucci's Slim Figure Secrets
Monica Bellucci mostly prefers to do yoga and swimming. Her main principle is to do nothing by force. She says that you should not force yourself to train. Also, the actress does not like any diet, but she tries to eat right. She weighs 68 kg, with the height of 178 cm, and is not ashamed of her round feminine shapes.
The Real Beauty
Answering the question whether she feels inspired by any Hollywood actress, Monica Bellucci responded without hesitation that it was Marilyn Monroe. Monica says that Monroe was very gentle. Her femininity was so bright and eye-catching, that all other actresses, even the most beautiful and feminine, seemed a little less feminine against Marilyn.