Is it the spark of a flame or just salving raw wounds? Anyhow, Justin Timberlake and Olivia Wilde did enjoy a good flirt together at Roxbury, L.A., during the weekend, as UsMagazine reports on the strength of insiders' evidence.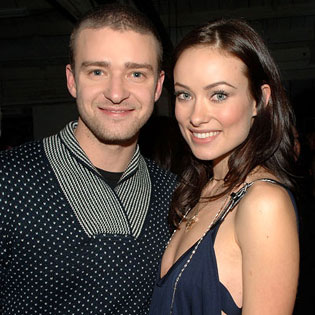 Both Hollywood beauties, who are now filming against each other in Now, are fresh out of long-standing relationships – last month Timberlake, 30, fell out with Jessica Biel, terminating a four-year liaison, while Wilde, 26, started divorce proceedings from her eight-year husband Tao Ruspoli. Now they need somebody to lean on – and dance with!
They started the night in Roxbury's VIP section, but later removed themselves to the patio. Both nicely casual in white T-shirts and jeans, they were inseparable, dancing the night away. Although there was no public kissing, apart from that everybody who saw them got a definite impression that they were on a date. "They were dancing, whispering, he had his hand on her back and shoulders," an insider describes the scene, summing it up as "obvious."
The costars were not alone, with a company around (including, among others, DJ Samantha Ronson, Lindsay Lohan's ex), but they – shares another source – were a group within a group, conversing closely while Timberlake had his arm around Wilde.
Now let's wait and see whether this rebound date will evolve into an equally pleasant relationship.
Source of the image: Swankycelebs.