People Magazine ran a special World's Most Beautiful Person issue with Julia Roberts on the cover. Now guess who topped People's Most Beautiful People list?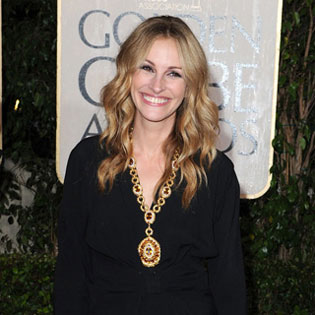 The 42-year-old Hollywood superstar continues to be the most famous and the most beautiful in the world. Unbelievably, it's been 20 years since Pretty Woman starring Julia Roberts was shot, but the Pretty Woman title's been hers for all these years.
Today Julia Roberts is a mother of three (5-year-old twins and the 2-year-old Henry), and it's only early this year that she signed her first makeup advertising deal. She's currently the face of Lancome's mascara.
Julia is really in awesome shape. She still needs just a few favorite makeup products to tidy up her appearance. Julia's always avoided heavy foundations, opting for moisturizing bronzer and creamy blushes. She won't go outdoors without having just a few makeup elements on: eye liner, two layers of mascara and mild nude lip gloss. Even more relaxed Julia is at home, without makeup and wearing yoga pants.
Source of the image: blogs.babble.com.