Julia Roberts is the woman who captivates everyone with her beauty and a luminous smile going straight through the heart. Today, with three children, she looks incredible! Who, if not her, has something to share with other women? The actress gladly reveals her secrets.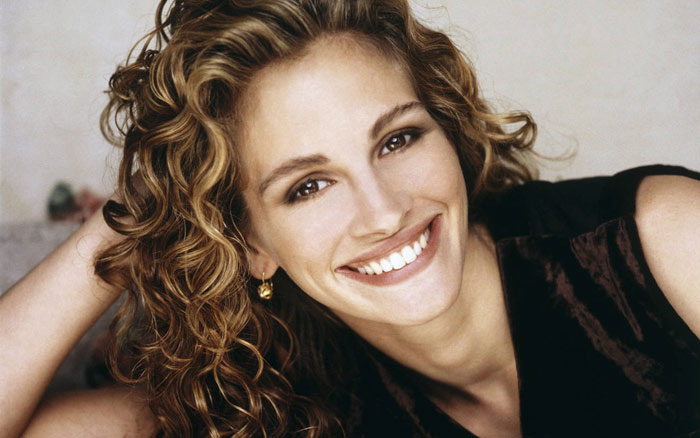 Be Happy
To begin with, the most important recipe for beauty is being happy! Then you radiate light and joy. This is more effective than all diets, creams, and Botox. Julia says what we look like is a reflection of how happy we are. Enjoy life! Depression and anxieties, negative emotions and feelings instantly affect the face. It is the inner feeling of happiness that makes up the basis for beauty. Face, posture, manners are a reflection of our state of mind. Therefore, Julia Roberts calls her husband's hugs and kisses the best beauty secret.
Dental Care
Julia Roberts smiles often – it is her business card. She strives to ensure that her teeth look perfect. In the morning, she puts crushed strawberries onto her toothbrush and brushes her teeth. It makes the enamel shiny. Only after that, she uses fluoride toothpaste. Every six months the celebrity sees her dentist.
Physical Activity
Do not ignore your physical fitness! Your best assistant is not a diet but an active lifestyle and sports. Julia Roberts prefers aerobics, yoga, kickboxing, morning jogging. She believes that her looks are due to good heredity. Julia does not adhere to strict rules of diet and nutrition, but she makes sure that her diet includes salmon (by all means!), as well as fruits, berries and herbs. This keeps her skin elastic, fresh, and young. Moreover, Julia excludes gluten from her diet – a complex protein that is part of many sweets and baked products.
Answering the question of what she would like to change in herself, Julia Roberts said that she would like to keep her back straighter.
Makeup & Skin Care Tips
Julia does not consider it necessary to keep numerous jars of creams and all sorts of lotions on her shelf. This is too much for her. It is enough for the celebrity to have an SPF-protective cream and a nursing cream for the eye area. The older you get, the more important these products become. She chooses a cream only with a light, almost weightless texture.
We all know that the secret of youth is skin hydration. Julia Roberts uses olive oil for skin care, either adding it to the cream, or just applying it onto the body after the shower. She also uses it to make her hair shiny. Roberts applies the product as a mask. Before going out on the red carpet in open-toe sandals, Julia Roberts applies olive oil on her feet and wears socks – and the feet get incredibly smooth and well groomed!
Julia Roberts is not a fan of pretentious and gaudy makeup. The main thing for her is to highlight the natural beauty without making great changes and bright colors. Her choice is an absolute minimum. She draws a thin eye line on the upper eyelid, applies a few layers of high-quality mascara that does not get lumpy (the actress applies the mascara on curled eyelashes) plus lipstick or lip gloss – and the image is complete! Julia Roberts may occasionally add a little golden eye shadow.
Julia's Favorite Clothes Brands
The actress's favorite clothes brands are Lanvin and Stella McCartney. She often chooses them to wear at fashion shows and on the red carpet.
Fragrance
Julia Roberts represents the La Vie Est Belle fragrance. When she was offered this, she wondered whether she wanted the whole world to think she smells that way – and she realized she did. Now she smells of iris, vanilla and tonka bean.