And to think that it should happen on July 9th, right before Jessica Simpson's 29th birthday. According to the People's source it was Tony Romo who initiated the breakup. At least he was seen – at the very day he was to attend her birthday – in the company of some 14 friends gallivanting to MyHouse in Hollywood. He neither had his girlfriend with him nor seemed to miss her.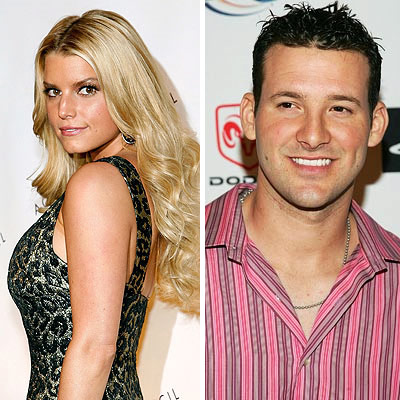 Such was the impression the witnesses at MyHouse gave out. "He had quite a few girls stop by his dance floor table. Romo was sipping Grey Goose and having a fun time with the boys."
On the other hand, friends of the pop star tell a different story. "She is heartbroken. She loves Tony. But it's been difficult lately. He's busy with his career and she's getting ready to shoot her show (The Price of Beauty). They decided to part ways."
It's understandable that Simpson's Twitter page says that the Barbie-and-Ken party she had planned for her birthday never came about. Still her message sounded quite elated: "I turned 29 and feel like I am on top of the world yelling I LOVE GETTING OLDER!"
Last Saturday the Dallas Cowboys quarterback had a get-together with some sports memorabilia collectors at the Los Angeles Sports Museum. L.A. Daily News reports that he was seen to blush when asked about his relations with Jessica, strengthening the rumors that they were drifting apart.
The next day Simpson's Twitter gave out another hopeful message from the heartbroken star. "Everyone needs to know that hope floats … grab the strings and pull it back to you." As the night was drawing in, she added: "Falling asleep with my mom and the dogs. Please lord give all of my beautiful fans, friends, enemies, and family rest. Bring all of us peace."
Simpson's rep refused to comment on it, and Romo's rep just stayed out of reach. But a source close to Simpson confirmed the gossip. "They were good together for along time," was the sad comment. "But I guess it wasn't meant to be."
Source of the images: hollywoodcrap.com, timeinc.net.