As the final stage of struggle with breast cancer is approaching fast, to end in double mastectomy and restoration surgery, Giuliana Rancic maintains her determination to go through the ordeal with her head held high.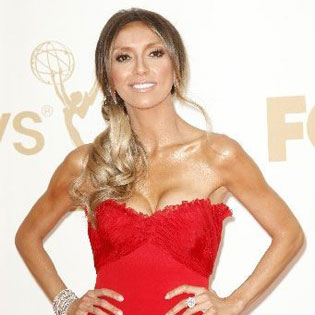 The 37-year-old E! News host is getting ready for the decisive treatment scheduled for Tuesday, December 13, which she intends to face with all the courage she has.
The beautiful television personality and reality star is fully aware that she will come out with momentous changes in her physique; moreover, she is going to feel grand bearing the scars that bespeak operation. During her exclusive interview to PEOPLE, Rancic dwelt on the subject of scars. She said she believed scars "are beautiful" and they "tell a story." Her own scars will keep reminding her of her incomparable experience and how she did come through the trial!
Some depressive moments of the period were also discussed at the interview. The famous TV anchor said they usually come on around 2 am, when she has to control herself so as not to wake up her husband, former Apprentice winner Bill Rancic – who was instrumental in joining her on the program – and indulge in a crying session. At those times she still can't believe that this should be happening to her.
But more often she joins her husband, 40, for cracking jokes like trying to figure out what size and shape mounds she is going to have after the surgery – she may end up with bigger assets than she is ready to believe!
"My breasts have never defined me," Giuliana told PEOPLE, adding that she had never expected them to and is not going to begin expecting it now.
Rancic's cancer battle started in August when a routine mammogram detected breast cancer. Lumpectomy and radiation had been immediately applied but, as the brave patient admitted on the Today Show, they proved ineffective. Suggested alternative treatments were also turned down since they could have brought about an early development of menopause, and Giuliana has been wanting to bear a child for years. So she remained with one critical decision.
Rancic makes out as if it was not so difficult to arrive at! In the long run, it boiled down to "choosing to live and not looking over my shoulder the rest of my life," as she summed up.
She will not cease working until the very last day and will turn up for work on Monday the 12th, she told her colleague Ryan Seacrest.
Meanwhile, she can't help being nervous over the surgery, she confessed on The Wendy Williams Show on Tuesday. But the famous host is all fire in her belly about the outcome! "I'm gonna feel more like a woman when this is all done," she told Wendy Williams, adding that she wouldn't be surprised if she looked "even hotter" after the operation!