Like it or not, open relationships are here to stay, and the number of celeb couples who own up to having an open relationship or profess some milder form of it is growing.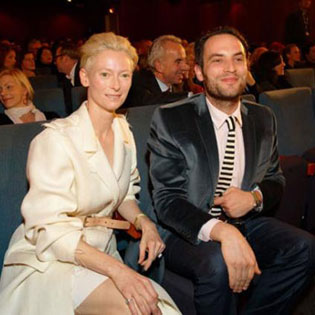 British actress Tilda Swinton and her long-time partner John Byrne can arguably serve as the most vivid example of what is also termed polyamory. They never minded appearing in public in company with their current boyfriends or girlfriends.
Although they are bringing up twins, Swinton usually goes around in the company of painter Sandro Kopp with whom she has been inseparable for 6 years. The liaison is said to have Byrne's blessing (while Byrne himself is dating Janine Davies). The three of them often live in the ménage a trois style which they proclaim to be "healthy".
Pink had tried to go open in her relationship with Carey Hart, but it was said at the time that as soon as Hart showed an inclination to avail himself of the situation, it caused a rift between the duo. However, they are together again and will soon welcome their first baby.
Whatever the participants may think about their polyamorous lifestyle, psychologists beg to disagree.
Relationship specialist Dr. Carol Lieberman in her interview with RadarOnline expressed her belief that people are beginning to think about going open when they feel that their relationship "is losing its edge." On the whole, she said, such an arrangement can work only as a temporary measure and be beneficial only in terms of bracing oneself to break up an unsatisfactory relationship.
Dr. Lieberman accentuated the fact that an individual begins looking for affection outside his established relationship because he or she is no longer feeling desirable. In an attempt to re-gain the assurance of his or her sexual attractiveness the individual sets off on a search for a new passion with his partner's consent. But a situation like this ought to end up in finding a passion that will engulf the person and result in dissolution of the previous relationship.
While not living a fully polyamorous life, some celeb couples claim they are ready to wink at their partner's infidelity – like Mo'Nique, who confessed to Barbara Walters that she didn't really care whether her husband Sidney Hicks had committed adultery or not, or like Angelina Jolie, who spilled that in her life with Brad Pitt fidelity wasn't of prime importance.
It may seem to be a very straightforward kind of relationship at the first glance, but actually it isn't, warns Dr. Lieberman.
When asked what makes couples opt for open relationship, she said it is usually done at the suggestion of one party. And even if it looks all right at the start, there are many pitfalls along the way. Jealousy. Lies. And things may turn really bad when one partner has got a new flame and the other hasn't.
Source of the image: Independent.