Ashton Kutcher and Demi Moore's marriage has been a troubled one, and when things are getting out of hand again, can it be reflected on Twitter messages – or on their conspicuous absence?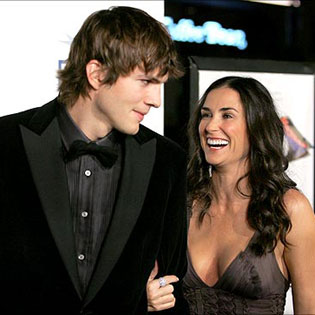 The two Hollywood celebs got married in 2005 following two years' dating, but last year they found their marriage rocked by infidelity rumors which kept recurring in the tabloids into this year. They went on a "spiritual journey" to Israel which was meant to bring them close together. But recently the regular tweeting of the stars – who are now separated by the US' width – dwindled in a manner which may signify changes to come.
Last Friday Moore, 48, went to Greek philosophers for a most suitable Twitter message and quoted Epictetus's advice to begin inspect one's own shortcomings whenever you feel offended by someone's faults which will disperse your anger. That was just one day before the couple's sixth wedding anniversary on September 24.
On the day of the anniversary no Twitter messages came from the husband and wife who didn't come together for the day. Moore was staying in N.Y.C. where she and Jennifer Aniston were busy promoting the short films they both had made and appearing at the premiere on Monday. Moore's shorty is intended to be part of Five, Lifetime's TV anthology.
Kutcher, 33, went for the weekend to San Diego where he enjoyed himself in the company of Danny Masterson whom he knew from That '70s Show days. Maybe he didn't tweet being away at a VIP table at the Fluxx nightclub. After that he returned to L.A. for his participation in Two and a Half Men and Tuesday night at the Promise Gala 2011 gave an award to Ryan Seacrest.
Of course the split is only suspected, and there's no word about it from the reps.
Source of the image: Trendmixer.