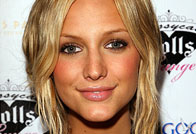 Ashlee Simpson-Wentz feels sad letting go of 2008 simply because it was so good for her. Approached by reporters at Pure Nightclub, Las Vegas, on New Year's eve, she said that she was looking forward to a wonderful 2009, considering how great 2008 was for her. Every woman would love 2008 if she had had similar happy events in her life that year.
Ashlee gave birth to her son, Bronx Mowgli Wentz, in November, 2008. Her appearance at the Pure Nightclub was one of her first public appearances after the childbirth. Hubby Pete Wentz joined his gorgeous wife at the party as well. Yet, Bronx at that time was with a babysitter at the hotel.
The star proudly calls her son the best thing that ever happened to her, and the year 2008, when she got married and became a mom as well, as the best year of her life.
Photo of Ashlee Simpson-Wentz: thewebconsole.com.