If you're planning a fall getaway to a national park or campsite, be prepared for cold weather and sudden rain. Fall camping is an amazing opportunity to take advantage of quieter campsites and incredible fall foliage, but it's best to come prepared for anything when you go camping after Labor Day.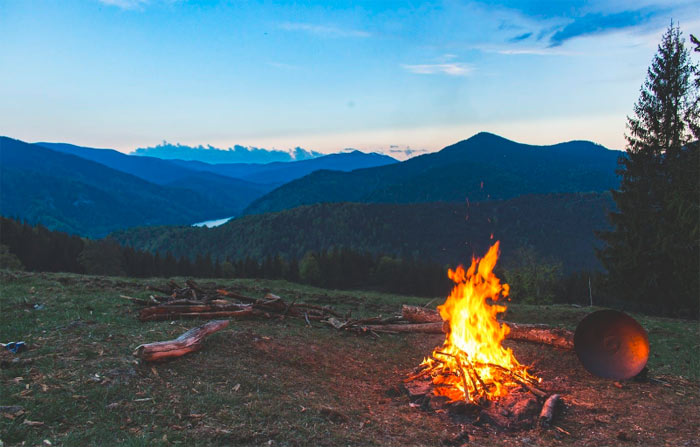 #1 A Quality Tent
Your camping trip starts with a top-quality tent that will keep you warm and dry when you're out in the woods. Some of the qualities you want to look for in a tent include:
Spaciousness – Make sure there's enough room in the tent to get to sleep comfortably and to hide from the rain if the weather takes a turn for the worse.
Aluminum poles – These are stronger and less likely to break than fiberglass alternatives.
An exterior vestibule – You can use these to keep outdoor equipment dry or even create a dry outdoor kitchen.
A good rainfly – If it's going to rain, you will appreciate spending a little extra on a superior rainfly, which is your tent's umbrella.
A one-piece tub floor – This is your tent's floor and it should be both a single piece and waterproof, or else you're going to find yourself having a wet and miserable weekend.
A roof vent – A roof vent helps the air circulate through your home
#2 Light
A flashlight or a headlamp will prove to be necessities when you're camping, but that shouldn't be your only source of light. Bring a battery powered lamp with you to bring inside your tent if you feel like reading before bed or the rain makes your plans for a campfire a washout. You also won't have to stumble into your sleeping bag or trip over yourself while you change.
#3 Sleeping Bags
Quality sleeping bags should keep you warm and dry. Find sleeping bags that use thermal technology that retain your natural body heat and keep you warmer. When you have a good quality sleeping bag, you shouldn't have to overdress for bed. In fact, overdressing for bed can even prevent your sleeping bag from working properly, as clothing that doesn't breathe will restrict your body heat and keep it from being distributed throughout the sleeping bag.
#4 Thermal Socks
When you want to keep your feet warm, comfortable and breathable thermal socks are a must-have accessory to bring on your fall camping trip. There's a big difference in how well regular cotton socks and thermal socks retain heat. A special thermal yarn designed by Heat Holders has resulted in the warmest thermal sock available. The yarn itself in combination with a long loop knitting technique has resulted in vastly superior performance. Check out Heat Holders thermal socks when you want to keep your feet warm at the campsite.
#5 A Fire-Starting Kit
New to camping and not convinced of your ability to get a fire going? In the fall, conditions can also be damp and hamper your efforts. You'll need a basic kit that includes tinder such as trioxane, a lighter, a ferro rod, and survival matches.
With these packed, you've got nothing to worry about when you go camping in the fall.