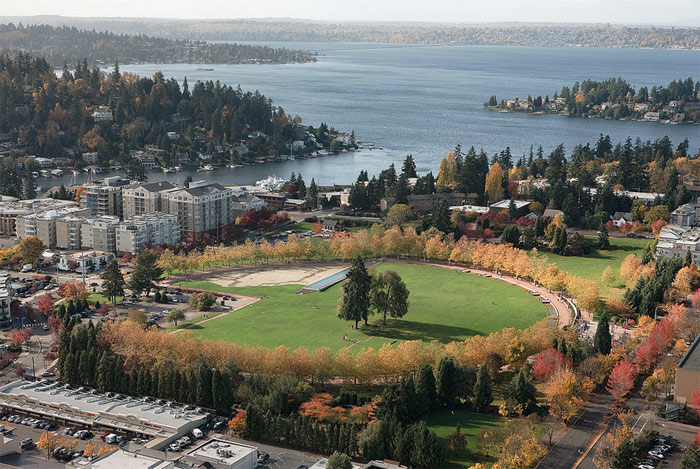 Image via Flickr by Curt Smith
Bellevue enjoys an idyllic setting on the shore of Lake Washington, with Mount Rainer in the distance. This certainly helped the city earn its name, which translates to "beautiful view." As a suburb of Seattle, this affluent area is home to much more than commuters who travel to the bright lights of the Emerald City.
Nature-lovers flock here to explore the stunning nature reserves and scenic parks that fill the area. With close to 100 parks to choose from, it can be tough to know where to head first. Read on to find out more about the most beautiful parks in Bellevue.
Downtown Park: An Oasis in the City
Partly thanks to its prime location in the heart of the city, Downtown Park is one of the most popular and well-loved parks in Bellevue. This 21-acre green wonderland is home to promenades, lawns, a pond, and a cascading waterfall. Visitors can soak up Bellevue's skyline and glimpse the snow-capped Mount Rainer in the distance. Convenient recreational facilities like a children's play area, toilets, and picnic areas make this park a hit with all the family.
For a place to stay nearby, check into the Sheraton Bellevue hotel or the Westin Bellevue Hotel, which will place you minutes away from the park.
Mercer Slough Nature Park: Wonderful Wetlands
As the largest wetland area in Bellevue, Mercer Slough Nature Park is a protected area that is overflowing with thick vegetation and hundreds of species of plants and wildlife. Explore the area by foot by following the Periphery Trail that circles the perimeter of the park, or rent a canoe to paddle down the meandering streams and enjoy a beaver's eye-view of the area.
If you're lucky enough to be visiting between July and August, head over to the park's Blueberry Farm to pick your own juicy blueberries and shop for fresh local produce and flowers. You can also learn more about Mercer Slough's positive effect on the ecosystem at the Park Visitor Center that's located in the historic Winter's House.
Meydenbauer Beach Park: Swimmable Waters
Meydenbauer deserves a spot on Bellevue's best park list because of its gorgeous waterfront location on Lake Washington. Although it is much smaller than the other parks, this park has a golden sandy beach surrounded by thick evergreens and secluded picnic spots. A children's play area and lifeguard on duty during the summer months both help to make this park suitable for all the family.
On sunny summer weekends the beach can become quite crowded, so arrive early to secure a sandy spot or visit during the week for a quieter escape. Check out this list of Bellevue hotels that are near to Meydenbauer.
Make traveling to Bellevue a breeze with Hipmunk. Hipmunk compares Bellevue flights and hotels to score you the best deals around.
What is your favorite park in Bellevue? Share your travel tips in the comments section below.
Alisha Smith is a Hipmunk writer with a serious case of wanderlust. She's most likely to be found road tripping up the West Coast or sipping coconut water on a beach in Bali.