This unusual name is used to denote the usual gymnastic rings, though a bit modified. The TRX trainer was developed by the U.S. Navy to train marines. The straps, reminiscent of the parachute straps, and comfortable handles, or loops, constitute the TRX trainer, developed by the US navy experts. Its relatively light weight (less than one kilogram) and convenient use (the simulator is easily mounted on a tree branch, fence, doorway, gate or ladder) allow you to work with TRX in a gym or at home.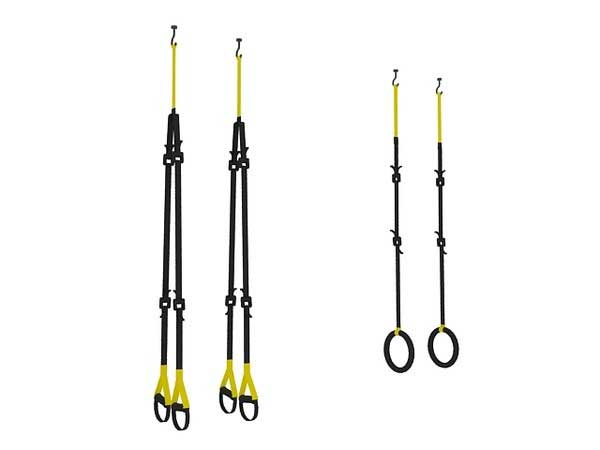 TRX Is the Mix of Strength & Cardio Training
You adjust the intensity of training. The exercises with TRX improve coordination, and are useful for the cardiovascular system and joints. They form the muscular system and correct posture. The work includes not only the major muscle groups, but also stabilizer muscles (they fix the position of the body and prevent injury when performing movements). This is important because, for example, low muscle endurance of the stabilizers is a very common cause of pain in the lumbar area.
Who Will Like TRX Training?
TRX will fit those who do not like exercise equipment and a variety of sports equipment like dumbbells and barbells. TRX provides you with a functional training causing no overload. The load is governed exclusively by your own weight. Are you afraid of injuries and sprains? When you use TRX, there is no vertical pressure on the spine, and you are hanging all the time. Thanks to the fact that you are in constant motion when doing these exercises, you may burn the calories faster than when performing common exercises. 40-50 minutes of TRX training is enough to feel exhausted.
TRX Training Contraindications
TRX training will not be useful if you have a disease of the musculoskeletal system, and even regular exercises are not recommended.
Perfect Workout Length Calculated
By the way, Canadian scientists have recently found that the frequency of training is not important, contrary to popular belief.
According to the experts from the Royal University of Toronto, there is no difference if you have workouts every day or just a couple of times a week.
The main thing is the duration of doing the exercise at a certain rate of physical activity, and not the number of times. It should be 150 minutes or 2.5 hours a week. This can be only one training, or you can divide it into smaller parts – it's a matter of taste, and the result is almost unaffected.