What a devastating comedown to slip and come crashing down in the middle of your Pilates workout just because sweat has made your feet a degree too slippery. If it keeps happening maybe the problem is with your shoes? Well then, Nike has an answer to the problem dubbed Nike Studio Wrap, it's freshly designed footwear to cater for women who are often to be found in a studio working out.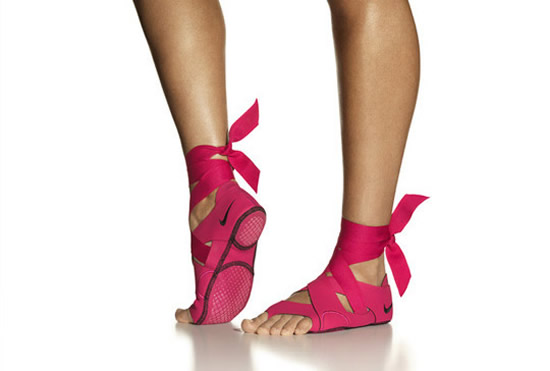 Promising enhanced support and balance during yoga, Pilates, whatever method you're into, the Studio Wrap has another definite advantage of looking very cute. Technically speaking, it's a modular system consisting of a wrap and a fully enclosed flat with a ribbon for ankle fix. A better grip is provided by toes that are left open and the flats' textured soles. The ribbons are adjustable ensuring comfort for ankle-foot movements.
It's not that Nike is yelling they've come up with perfect sports footwear, but the Studio Wrap is great for hygiene and traction. Besides, it is a comfortable answer if your studio insists on your wearing your own footwear (which is hygienic), being lightweight; moreover, you can go about in them outside the studio if the weather is right without losing any of your femininity and sexiness.
Begin looking out for these stylish cuties next spring; the retail price is said to be $110.