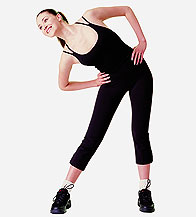 An interesting fact was recently discovered, which showed that listening to music during a heavy training can increase endurance of your body by 15% and, in addition, it helps enjoy the sport much more. It works even when a person trains on strength training equipment at a very high intensity level. A 20 year study which examined connection between music motivation in sport and work helped establish this fact. The study showed that it is much easier to work out when your favourite tune is on.
The study was initiated by physiologists from Brunel University, the Great Britain. The participants were actively training and could select the type of music, rock or pop music, they wanted to listen to while training. The physicians discovered that music helped enhance muscle relaxation, especially when the person was running or walking.
From the results they received, the physicians concluded that "music" method can be used during rehabilitation therapy as an additional treatment method to help maintain fitness to people with heart and weight problems.
In addition, many people (including me) find it much easier to do regular daily tasks, such as cleaning, cooking, or even working, when the music is on. Enjoyable music can lift your mood so that the task you hate so much can turn into something interesting at least.