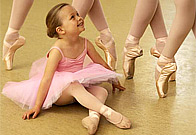 What training is it that burns 500 calories in half an hour, combining aerobics and cardio exercises and working all muscle groups simultaneously? Dancing! In case you don't know, dancing pumps endorphin into your brain, a hormone that makes us feel happy. Just find what kind of dance appeals to you and enjoy yourself.
Hip Hop
Hip hop is fun and freedom, improvisation and the chance to be what you are, dance and sports activity at the same time. If you do hip hop, you don't really need some extra fitness activity. Hip hop includes plenty of aerobics and cardio exercises, helps shed off pounds, improves the cardiovascular system and equally develops all muscle groups. I'm not telling about developing subtle sense of rhythm and having a lot of fun!
Ballet
Noble posture, grace and lightness, elegant gait and slim figure are all the things you can get from your classical dance classes. Ballet dancers are able to lose weight and strengthen muscles over the short term because exercises are quite intensive. Ballet demands precision and instant control over virtually every muscle of your body, holding your back straight, sucking your belly in, straining your buttocks and legs. While ballet movements seem so weightless, they require much straight from performer, giving fast fitness results. Besides, you get perfect stretch and basic skills to start learning any other dance.
Belly Dance
This plastic and sensual dance has its own philosophy. Dancer learns how to express herself, how to understand and appreciate her body, how to shake off complexes and constraint. In addition, it's an effective fitness. Taking belly dance classes helps lose extra inches off your hips and buttocks, flattens your belly and strengthens your arms and back muscles effectively. Motions distinctive for this Asian dance – shimmies – work as a massage, melting away cellulite and preventing excess water to stay in the body. Belly dance is also beneficial for female health as it develops core muscles of true pelvis.
Latina Dance
Sultry Latin-American dances such as salsa, rumba, cha cha cha have formed the base for one the most popular club dance trends. Just after taking your first Latina dance classes you can show off your new skills on the dance floor. As with belly dance, Latina builds up self-confidence and invokes a sense of freedom. Being a fitness activity, the dance brings about good posture and graceful gait as well as develops various groups of muscles, from hips and back to waist and arms. By the way, you can meet a handsome guy at the classroom or at Latina dance parties.
Dancing Aerobics
It sounds like middle-ground option for those who are bored with regular aerobics and shaping routines and think dancing is not intensive enough for them. In dancing aerobics, the set of exercises is designed to put more intensity into dance movements and rhythm so you are dancing and exercising at the same time. The effect from the workouts doubles, too. Your posture improves, extra pounds go away, and flexibility and agility in movements come about.
Dance yourself healthy!
Source of the image: tcbc.com.au.