There's no gainsaying that physical activity makes us feel fine and able, but over-exercising has always been a danger lurking in the background… And as we get on in years, it may be fraught with even more health perils. There's a recent research that links some kinds of exercises with the risk of developing arthritis.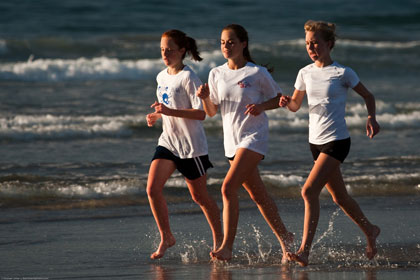 The study delivered at the annual meeting of the Radiological Society of North America warns that individuals who are past their young years stand a fair chance of over-exercising themselves into osteoarthritis, the knee being especially vulnerable.
"Our data suggest that people with higher physical activity levels may be at greater risk for developing knee abnormalities and, thus, at higher risk for developing osteoarthritis," runs the conclusion of lead researcher Christoph Stehling.
It has been known that osteoarthritis poses a serious threat to bulky women, but this study stresses the fact that some particular exercises and especially the strain we sustain mostly make for the damage we may inflict upon our body.
Jumping, running, as well as other kinds of weight-bearing physical activities, for example, put more pressure on the cartilage and ligaments and may result in inflicting an unexpectedly severe damage on them.
People with a history of joint or ligament injury are advised to approach these kinds of exercises with caution, avoiding overstraining themselves or even throwing them over in favor of activities like swimming and cycling.
Whereas to give up exercising altogether because you are already suffering from arthritis is not the best thing to do, scientists point out. The study reminds that careful and moderate exercising strengthens the joints and enables to alleviate the pains to a certain extent, apart from buoying us up generally.
Source of the image: flickr.com/photos/mikebaird.