Stone therapy or a massage with hot stones is quite a new SPA-treatment. Try to do it yourself or even turn it into an erotic past time.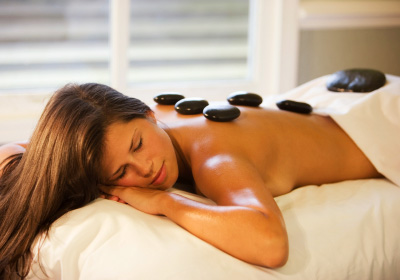 Stone therapy is based on stone thermal and energy effects combined with some elements of reflexotherapy. Ideally, to achieve this, 54 black hot and 18 white cold stones are used which are alternated during the treatment. However, we will try to show how to perform a simplified version of it.
Magical Stone Therapy
Stone therapy is a kind of magic. Not only does it relieve of stresses, depressions and muscle tension but also improves blood circulation, does lymph drainage, stimulates removal of toxins and excessive fluids as well as helps saturate tissues with oxygen. It also helps against arthritis and osteochondrosis, provides regaining of muscle tone and skin elasticity, boosts metabolism, thus helping to get rid of fat deposits and has many other health benefits.
What Kind of Stones Should You Use?
What you will need are smooth oval stones that can be purchased from a SPA-parlor or brought from the seaside, a quiet place, comfortable bed, subdued light and gentle music; in short, a bedroom could be an ideal choice.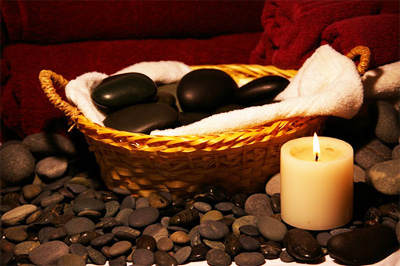 Preparation for Hot Stone Massage
What should you do? Fill a bowl with hot water and put the stones into it so that they warm up. Also you should fetch some warm wet towels beforehand.
There can't be a perfect massage without the 'right' oil! Better use aromatic oils with vitamin E or natural olive oil. It ensures perfect sliding. But the main advantage of this kind of oil is its quick absorbability that leaves you without an unpleasant feeling of oily skin.
How to Perform a Stone Massage?
The treatment starts with spreading massage oil over the skin. For the body to slowly start relaxing the stones are put following a certain pattern along the spine, on the waist, belly, shoulders, arms and hands.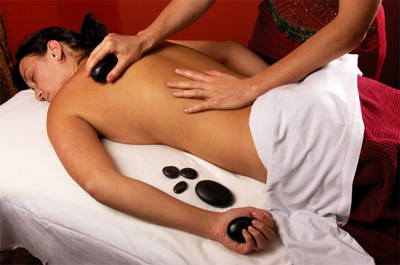 To Hit the Mark
Say you have chosen your husband as your first stone-therapy treatment client. Have him lying down on the bed with his face down, put a pillow below his head. The main rule here is he must feel comfortable! Is he comfortable? Well let's proceed then.
It is believed that warm stones, when put on certain bioenergy spots, promote body self-healing, but that's not our purpose here. Place stones on his palms and feet. Take two more hot stones and put them on his waist left and right of his spine after you've oiled that area and you hands with massage oil.
Following the Route
Press the stones to his back and start massaging it by moving them smoothly up and down along his spine for four minutes. Next aim is his neck. Massage it with circular motions shifting from the center to shoulders. After four minutes, switch to his hands.
Achilles' Heel
Put some more oil on your hands, take a warm stone and start massaging his heel with circular motions (here more force must be applied than before), then do the arch of his foot. Massage with your hands a spot beneath his big toe and gently pull each toe with your hand. Take another stone and proceed to another foot.
Health Benefits of Hot Stone Massage Therapy
The main effects of stone therapy are: detoxication of skin and muscles, improvement in blood circulation, deep relaxation of the whole body, pain killing, boosting immune system, achieving the state of harmony and peace, and a surge of positive energy. That's something, isn't it? A simple and pleasant way to deliver unforgettable delight!
Source of the images: urbanlotustouch.net, grantholtcreative.com, cltv.com.