19-year-old Englishwoman Rachel Dowley bought Garnier hair dye, for 5.49 GBP, at her local store in order to dye her hair conveniently at home. Next day she was in the hospital. After using the hair dye the girl's appearance changed so much that her own mother could not recognize her.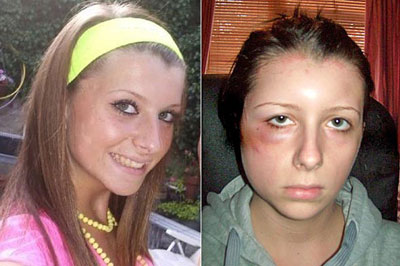 Rachel's face swallowed so much that it looked as if she was beaten up. She even received some permanent scars. Doctors warned her, resident of Essex town in England, that another hair coloring can lead to another anaphylactic shock, which she will probably not be able to survive.
Interesting enough, the girl found out about her allergic reaction to hair dye back in 2005, when she tried to make henna tattoo at a salon. Since then she was careful at choosing her hair dye in order to avoid getting allergic reaction to it. This time was not an exception. She did a patch test before dying her hair by coloring a small section of hair. She observed no reaction and assumed it to be safe to color her hair.
Next day she experienced rapid and painful swallowing to her face. Rachel was delivered to the hospital, where doctors medically treated the allergic symptoms and anaphylactic shock. She will need thee weeks to fully recover and remove all external effects. She has been injected with a cocktail of steroids, painkillers, antibiotics, anti-inflammatory drugs, and even treated with hydrocortisone cream.
Rachel calls to warn women who want to color their hair: "I just want everyone to do patch tests and make sure they keep them on for the whole 48 hours before application, because no one I know did them until it happened to me. I wouldn't wish the emotional and physical pain on anyone, even my worst enemy."
Source of the image: Stylelist.