For those with celiac disease or gluten sensitivities, maintaining a gluten-free diet is critical. Thankfully, smartphone app developers are creating apps to help users manage diets and find gluten-free restaurants. If you need to follow a gluten-free diet, these five apps can help you do it.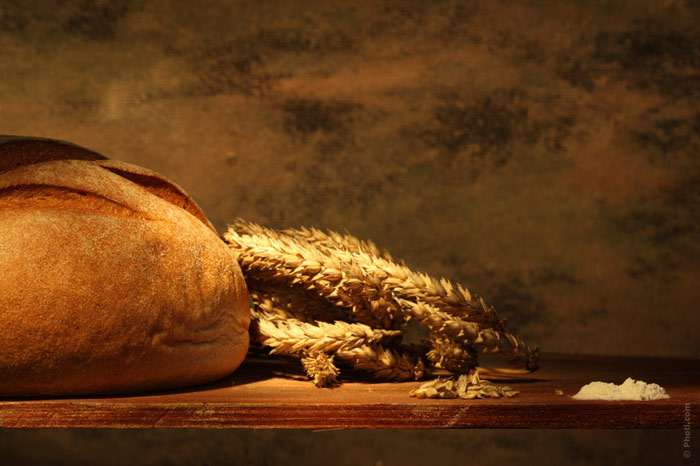 Gluten Free Restaurant Cards from CeliacTravel.com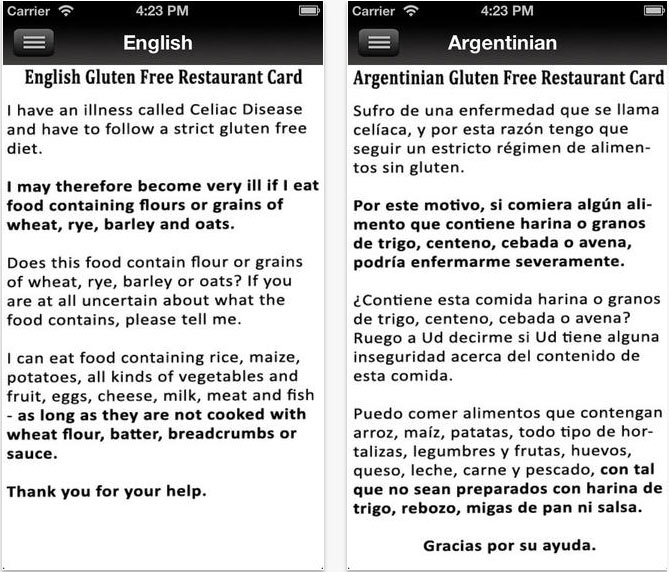 Image via Apple.com
This free app for the iPhone relieves many worries for people who want to eat out but still keep up a gluten-free diet. This app is especially useful for anyone traveling to a country that speaks another language. It provides useful information about celiac disease, which foods will make sufferers sick, and which foods are acceptable.
Plus, the app translates this information to more than 40 languages. Therefore, you can show the app to waiters or chefs in just about any country to make sure there's no confusion or miscommunication. This app even works without a Wi-Fi connection, so you can use it anywhere you're traveling.
Is That Gluten Free?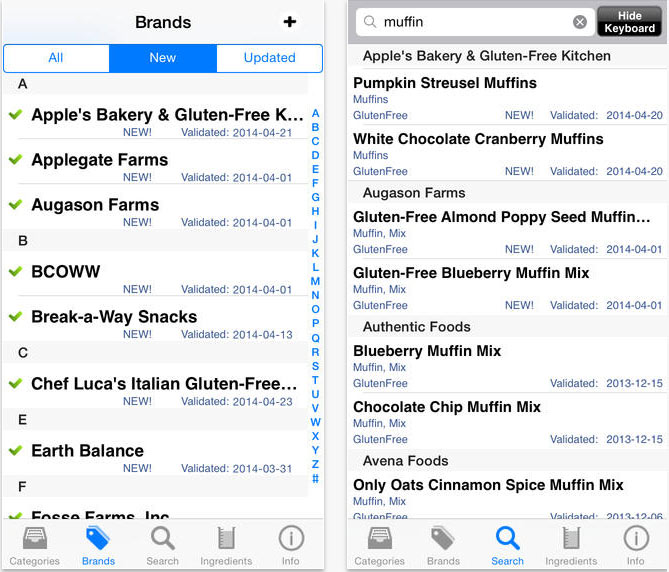 Image via Apple.com
For $4.99, iPhone users can download this app to make their grocery shopping experience easier. With this app, you can search more than 30,000 products that manufacturers have verified free of gluten. There are also more than 1,140 brands you can search through. You can search through the products by product name, flavor, category, or brand.
Manufacturers can add comments about any possible cross-contamination, and you're also able to add your own products, notes, and ratings. Plus, if you find that you need more information about a product, the app even provides immediate access to the manufacturers' website and phone number. All of the features in this app will even work without a Wi-Fi connection.
Find Me Gluten Free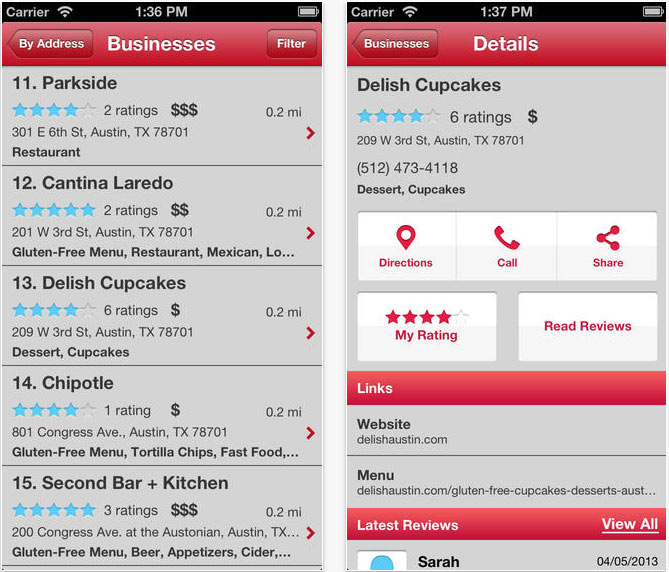 Image via Apple.com
This free app is available for both Apple and Android devices. It's one of the highest rated apps in the Apple App Store for gluten-free living, and it combines many great features into one easy-to-use app. If you want to eat out at a gluten-free restaurant, you can search for one near you.
You can read reviews of the restaurant, view the menu, call the restaurant, or get directions all directly from the app. You're also able to use this app to search for gluten-free recipes and gluten-free grocery store products.
Cooking Planit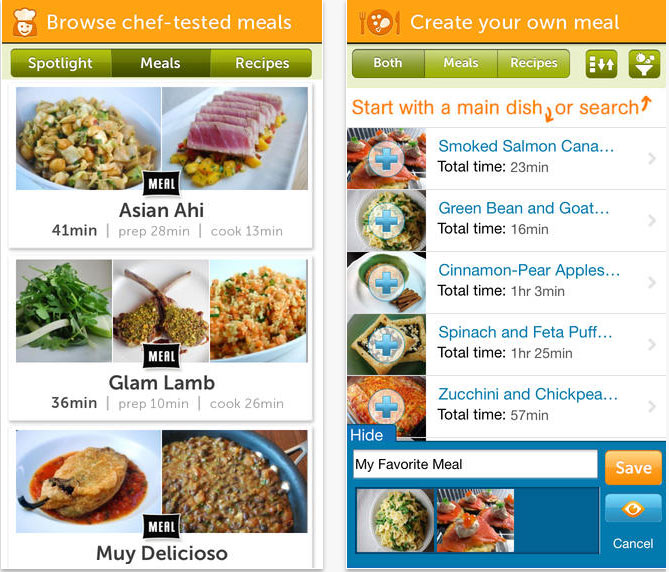 Image via Apple.com
This iPhone app guides users through each step of putting together not just one recipe but an entire meal. You can search for recipes based on ingredients or dietary restrictions. Once you know what you want to make, the app will put together a shopping list and walk you through each part of making the meal so that everything is ready at the same time.
If you create an account on its website, it'll also automatically sync with your phone so you can keep track of recipes across multiple devices. It doesn't matter if you're cooking for yourself or for a large group because you can adjust the recipes to serve anywhere between two and six servings. It costs $2.99 to download this app.
HealthyOut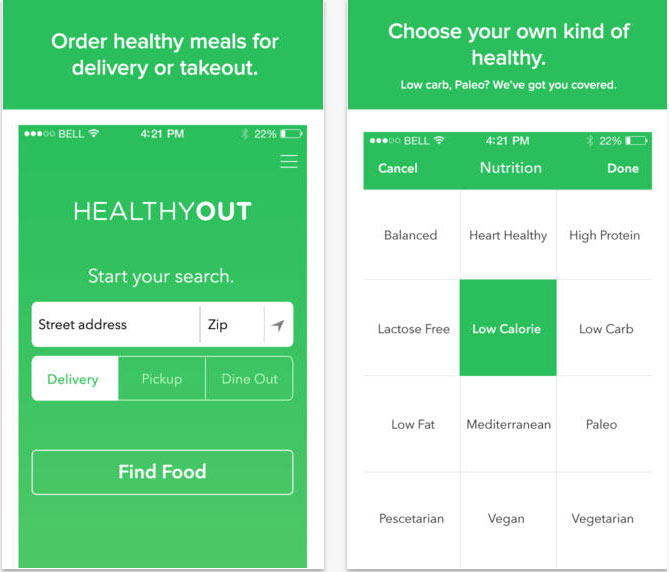 Image via Apple.com
This app for Apple or Android phones is great for people who like to dine out while still maintaining their gluten-free diet. You can search for restaurants in your area for dine in, delivery, or takeout and then choose gluten sensitivity as a dietary restriction. From there, you can even filter your results by ingredient, type of dish, or cuisine to find exactly what you're craving.
Once you find a restaurant you're interested in, the app will show you pictures of dishes and also show the nutritional information for them. You can download the app for free, but for an extra $28 every month, you can even set up a schedule to have your meals delivered right to your door.
If you need to keep up a gluten-free lifestyle, these apps are very helpful. From searching for gluten-free products to finding restaurants that serve gluten-free meals, these apps have everything you need to stay healthy and still enjoy cooking and dining out.